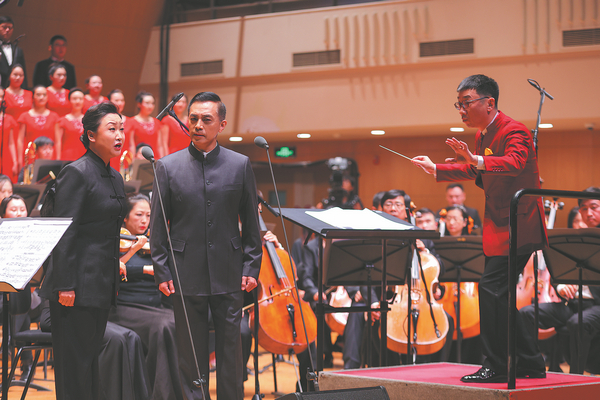 Key anniversary honors the memory of symphony pioneers, Chen Nan reports.
An orchestral piece composed by Xiao Youmei (1884–1940) was premiered by a small student orchestra under Xiao's baton at Peking University in 1923.
Inspired by music and dance from the Dunhuang murals, in Gansu province of Northwest China, New Raiment of Rainbows and Feathers is widely considered the first original Chinese symphonic work.
Marking the centenary of Chinese symphonic music, the 8th China Symphony Festival, a yearlong event of performances by symphony orchestras highlighting original works by Chinese composers, was announced in Beijing by the China Symphony Development Foundation and the China National Symphony Orchestra, the event's co-organizers.
On April 23, the festival's opening concert was staged by the China National Symphony Orchestra under the baton of conductor Li Xincao, featuring the classic Chinese symphonic music piece, Shajiabang. On Nov 18, the festival will end with a concert by the Suzhou Symphony Orchestra under the baton of conductor Chen Xieyang in Suzhou, Jiangsu province.
"China has come a long way in exploring and creating original symphonic works," says Chen Guangxian, president of the China Symphony Development Foundation, a nonprofit organization co-initiated by a group of Chinese musicians, including composer Zhou Weizhi (1916-2014), conductor Li Delun (1917-2001) and composer Wu Zuqiang (1927-2022).
"Thanks to those great Chinese musicians, we have more original works which speak for our own culture. We celebrate Chinese symphonic music and Chinese composers, such as Xiao, who paved the way for original Chinese symphonic music," adds Chen, mentioning other original pieces performed during the 1920s, such as Xiao's Trauermarsch, which was composed in 1916 and was premiered at Peking University in 1925, and Nostalgia, a symphonic prelude by Chinese composer Huang Zi (1904-38), which was premiered at Yale University in May 1929.
The first China Symphony Festival kicked off at the National Centre for the Performing Arts in Beijing on May 5, 2008. It lasted about six months with a program that had 25 concerts by 25 Chinese symphony orchestras, featuring 161 pieces by 165 composers.
This year, the festival has gathered 29 Chinese symphony orchestras, including the two oldest — Shanghai Symphony Orchestra, which has a history of more than 140 years, and the Harbin Symphony Orchestra, founded in 1908. Those orchestras will bring concerts to different cities, making the festival a national event.