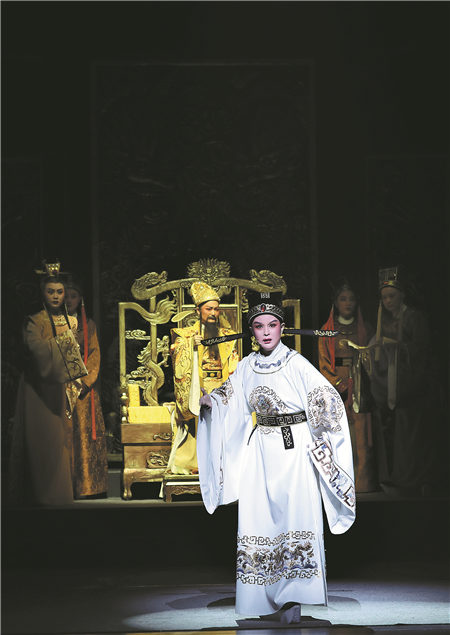 In the History of the Song, the official historical record of the Song Dynasty (960-1279), a chapter gives a brief overview of a righteous official named Chen He. It is only about 700 words, chronicling his life and career and depicting the consistent efforts to fight against corruption he made while serving as yushi dafu, in charge of disciplining wayward imperial officials.
One of his deeds mentioned in the book is that Chen once lodged a rebuke of Tong Guan — then a treacherous high-ranking official — with Emperor Zhao Ji who, however, showed no interest and tried to leave before Chen finished his words. Chen grabbed the emperor's robe to stop him, so hard that part of its front was torn apart.
Chen's dogged, maverick persistence went unappreciated, and he was sidelined at court and demoted to minor positions outside the imperial city.
His integrity, unyielding spirit and devotion to his duties has inspired Xiao Baihua Yueju Opera Troupe, based in Ningbo, Zhejiang province — also Chen's hometown — to produce Zouma Yushi, an original play centering on Chen and the fight against Tong and his self-seeking faction.
The production, premiered in March 2022, has so far been staged more than 40 times, including the latest performance at the National Centre for the Performing Arts in Beijing on April 8.
Yueju Opera — a major school of traditional Chinese opera — is primarily popular in Zhejiang, its birthplace, and in nearby Jiangsu province and Shanghai. It is characterized by a soft, gentle style of singing and graceful movements.