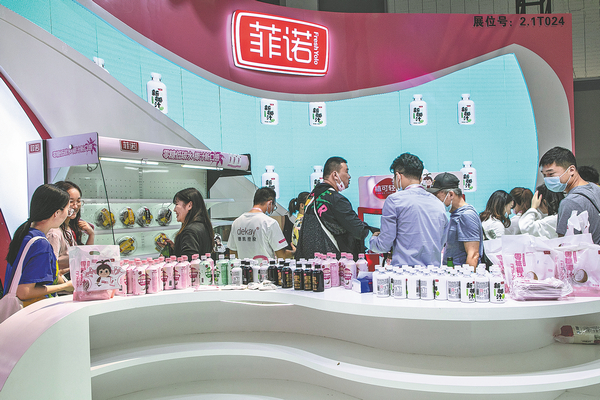 Zhibaishuo, prior to its introduction to the Chinese market by US-based beverage giant Coca-Cola, had undergone a major upgrade of its product portfolio in an effort to seek growth opportunities in the country's fast-rising plant-based milk sector.
Shao Feng, CEO of Zhibaishuo — which is based in Xiamen, Fujian province — said they have rolled out a series of products, including oat, mixed grain and bean-based beverages, targeting a diversified group of consumers, particularly younger consumers.
Among them, this spring the company launched a sucrose-free oat milk on various digital platforms and offline retail channels.
Zhibaishuo recently signed renowned Chinese athletes to present a healthier and more positive product image, which matches its target demographic.
"We've kept focus on fast responses to meet diversified demand from the segmented plant-based sector and continue to improve our innovation capacities to attract more health-conscious consumers," Shao said.
Plant-based milk is not a recent innovation or import from overseas. In China, walnut milk and almond milk have existed for decades, despite their continuous sales declines on a yearly basis. Soy milk and coconut milk have shown weak to flat growth over the years, said market experts.
However, oat milk is a rising new star. According to global market research provider Euromonitor International, in 2022, oat milk took up 2.4 percent of the country's plant-based milk, in terms of market share of retail sales.
A Qianzhan Industry Research Institute report on China's plant-based protein drink sector between 2020 and 2025 said that the annual growth rate of plant-based milk is expected to remain more than 20 percent, with an estimated market scale of over 300 billion yuan ($43.5 billion) in 2025.
Research agency Mintel Group said traditional plant-based drinks still lead in terms of market penetration, among which coconut and soy-based drinks lead the share of "have drunk and will purchase again" ratings from consumers.
Meanwhile, nut-based drinks, such as peanut, almond and walnut-based beverages, have either a higher share of "have drunk but will not purchase again" or a lower share of "have drunk and will purchase again", indicating the loss of target audiences for traditional nut-based drinks and a stable dominant position of coconut and soy-based drinks.
In contrast, oat-based drinks enjoy a relatively modest penetration rate — close to that of walnut and almond-based drinks and a higher share of "have drunk and will purchase again" than that of walnut and almond-based drinks, reflecting the strong growth and market potential of oat-based drinks as an emerging plant-based beverage in China's market.
FreeNow coconut milk, founded in 2015, built its second factory in Hainan province in March, sharply increasing its annual production capacity by 100,000 metric tons. The project required an investment of 160 million yuan. Combined with its first factory in Zhejiang province, Free-Now's total annual production capacity now stands at nearly 200,000 tons.
Its key product — coconut-based milk — saw revenue double in both 2021 and 2022, the company said.
FreeNow's coconut-based milk recorded a revenue of more than 1 billion yuan last year. The company has both a business-to-business category, mainly supplying restaurants, as well as ready-to-drink products aimed at retailers.
For example, its coconut water product, with a liter priced at 18.9 yuan, is made from coconuts grown and picked in Thailand before being shipped to China for processing to keep them fresh, said the company.
New product development is critical to the growth of plant-based drinks. Soy-based drinks are promising thanks to the high-quality content endorsed by the National Nutrition Guide, according to Mintel.
Opportunities also lie in the well-recognized health and functional benefits, especially probiotic, said Rika Huang, a research analyst of Mintel.
Brands can establish themselves as healthy, feel-good choices that act on consumers' behalf in fulfilling their desire for sustainability.
However, plant-based milk, even oat-milk, is still just beginning to take off. Poor flavor and taste are the key complaints of plant-based drinks, while fewer respondents are dissatisfied with the quality and content of protein, which are important purchasing motivations.
Therefore, taste and flavor are the critical determinants for the success or failure of plant-based drinks, while the quality and content of protein can help brands differentiate themselves from the competition, according to Mintel. Thus, brands can prioritize the improvement of flavor and taste over formula upgrades, it suggested.
Kate Zhang, a marketing executive based in Beijing, said she only mixes oat-milk when drinking coffee. "I don't like the taste of oat-milk compared with milk, even though I am aware of its health benefits," said Zhang, who frequently works out at a gym.