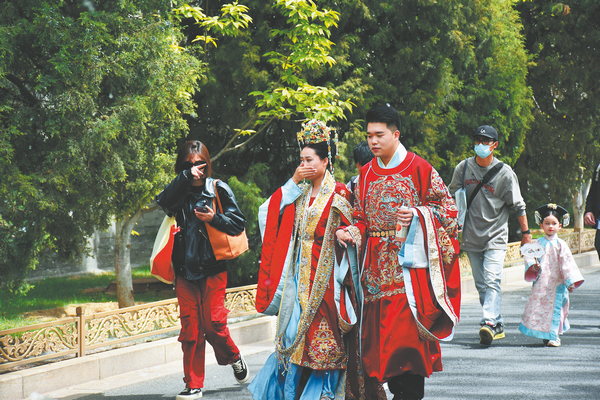 Forestry bureau balances allergen reduction, landscape benefits of cypresses
Every now and then in spring, people can be seen sneezing with stuffy noses on streets in northern China, which may be one of the symptoms of pollen allergy.
In the worst period for sufferers of pollen allergies — especially bad between March and May — forestry and meteorological experts are figuring out ways to alleviate the effects of airborne pollen, which mostly comes from trees.
Those who are annoyed by Beijing's high pollen count have complained to the forestry bureau, suggesting getting to the root of the problem by chopping down the offending trees.
An open online letter from a Beijing resident to the capital's forestry bureau in March read: "Every March to May, I suffer a lot from sneezing and itchy eyes due to the annoying and rampant pollen of the male Sabina chinensis. As far as I know, not only I but also an increasing number of people are seriously allergic to such pollen. I propose that the forestry bureau cut down the male cypress trees since female cypress trees have no such effect. Other plants that produce allergens should also be strictly controlled."
Another letter to the bureau in March read: "My child suffers from red eyes and a stuffy nose and cannot sleep at home because of a row of Sabina chinensis next to our window. Every spring, pollen allergies are so serious that we cannot live a normal life."
An April letter to the Beijing government from a resident read: "The itch makes me want to pick out my eyeballs! I hope you can understand my pain. I eagerly ask the forestry bureau to take measures to prevent cypress trees from blooming. I will appreciate it a lot."
According to a report by Beijing Daily, the allergy department of Beijing Shijitan Hospital was full of patients bothered by pollen. By the end of March, the number of outpatient visits was about three times that of usual.