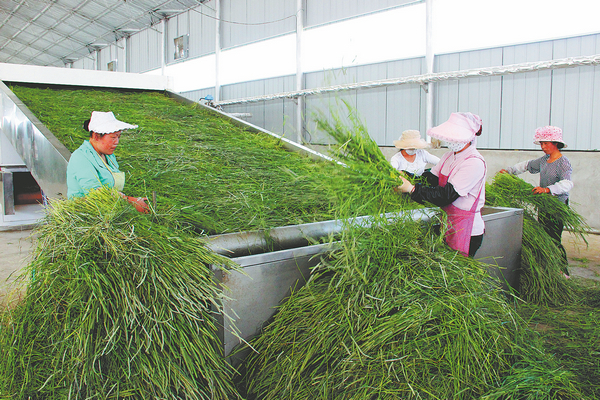 As spring temperatures continue to rise, timothy grass is sprouting in the pastures of Lizhu, a village in Minxian county, Gansu province, and the village's farmers welcome the best period for selling grass.
Workers are busy in a Fengmei Forage Planting Cooperative plant ing high-quality, dried timothy grass, packing it in boxes and delivering it to places in China and abroad.
Lizhu is famous for the high-quality of its timothy grass, but even several years ago, villagers couldn't imagine that they could promote their products to overseas markets as high-grade fodder for race horses and pets.
"In the past, the grass was used as low-cost feed for cows and horses," said Wang Jianhui, president of the cooperative. "Now the grass is exquisitely packaged and sold via e-commerce platforms to first-and second-tier Chinese cities for feeding pet rabbits, chinchillas and guinea pigs."
"The boxed, dried grass can be sold at around 50 yuan per kilogram, and the wholesale price can reach 25 yuan per kg," he said. "Last year, our cooperative's sales volume reached 3.2 million yuan."
"The village has about 413 hectares of arable land for growing timothy grass and has set aside 80 hectares for high quality growth," said Kou Zhiming, the village's Party secretary.
"There are five cooperatives, including Fengmei, whose annual sales amount to more than 1 million yuan."
There are 13 forage companies, 131 households capable of large-scale forage processing, and 35 small, family workshops in the village.
In 2022, the village's annual sales of the grass reached more than 100 million yuan ($14.56 million).
The developing industry has inspired more young villagers to return to their hometown, including Wang Wenjuan, director of the e-commerce department of Lyucao Cooperative.
In August 2019, Wang, 29, quit her job as a kindergarten teacher in Xi'an, Shaanxi province, and returned to her hometown.
"The village started large-scale sales of the grass in 2008, but villagers' earnings remained low because of the low sales price and overproduction," she said. "In 2013, to help villagers solve the difficulties, the cooperative was established."
The cooperative bought grass from the villagers and then made all-out efforts to find markets across the country.
"Taking product samples, cooperative staff members attended various pet shows and visited potentially interested companies," she said. "They also negotiated with online sellers to promote the grass."
"Conditions improved starting in 2015 as the cooperative got more orders," she said. "However, most of the orders are for wholesale, which has little price advantage."
From 2019, the cooperative began developing e-commerce business, and it rapidly grew in the following years.
"I accepted an invitation to become the director of the fledgling e-commerce department, hoping to help my fellow villagers increase their income," she said. "I spent around three months learning about the forage industry and e-commerce business to sharpen my skills."
"We opened stores at various e-commerce platforms, such as Taobao and Pinduoduo," she said, adding that in the first three months, the daily sales volume was only several hundred yuan.
"After a period of researching consumers and their buying habits, we adjusted our efforts, and things began to change at the end of 2019, when daily sales volume reached nearly 20,000 yuan," she said.
Wang said the daily sales volume can now reach 100,000 to 300,000 yuan.
On March 31, the cooperative registered China's first cross-border store on Amazon, the world's largest international e-commerce platform.
"We have great confidence in promoting our grass to the overseas market because of its high quality," Wang said.
In 2022, the cooperative planted 433.3 hectares of timothy grass, attracting over 2,600 village and nearby households to participate in the industry.
"We expect to achieve output value of 30 million yuan with a profit of 2.27 million yuan in 2023," she said.
Minxian has planted timothy grass since 1941, when it was introduced from the United States.
The county's special alpine and damp environment provides favorable conditions for growing and improving plants, such as timothy grass, which provides ideal, long fiber forage for race horses, cows and plant-eating pets.
In 1979, provincial government departments began promoting high-quality varieties of timothy grass and developing the forage industry, developing the chief local varieties, with their unique regional characteristics, through 80 years' of planting and breeding.
More than 13,000 hectares of arable land in the county are used to plant high-quality varieties of forage, and half of the area is devoted to timothy grass, making it the largest timothy grass planting and processing base in China, according to the county's bureau of animal husbandry.
It has built five planting and processing bases, one leading enterprise, 87 cooperatives and 30 family farms, with an annual output of 60,000 metric tons of dried timothy grass, valued at 450 million yuan.
Contact the writers at zhouhuiying@chinadaily.com.cn