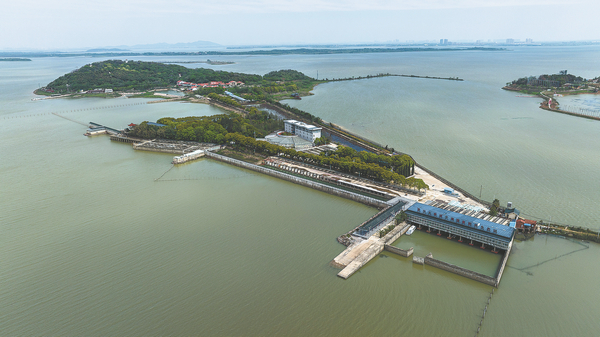 Scientist pioneers use of weeds to improve water quality in ecological test.
It's hard to imagine when seeing Yu Dan — dressed like a common worker, usually in crumpled, untidy clothing, splashed with mud or soaked with water — that he is a professor at a famous university.
Yet Yu is a professor at the College of Life Sciences of Wuhan University in Hubei province.
His life has revolved around aquatic weeds since the 1990s.
For more than three decades, the 66-year-old has devoted himself to planting weeds in a large lake in Hubei in order to reduce its contamination and improve its ecosystem, and his efforts have been paying off. The lake's water quality and ecosystem have greatly improved.
Liangzi Lake, Hubei's second-largest freshwater lake, is the object of his attention and his workplace.
The lake, situated in the cities of Wuhan, Huangshi, Ezhou and Xianning in Hubei, has a total water surface of 328.2 square kilometers, according to Ezhou's bureau of water resources.
Working and living on the lake's Niushazui island, Yu and his students have planted more than 13,000 hectares of aquatic weeds, which, along with natural weeds, form an underwater forest sprouting beneath the lake's surface.