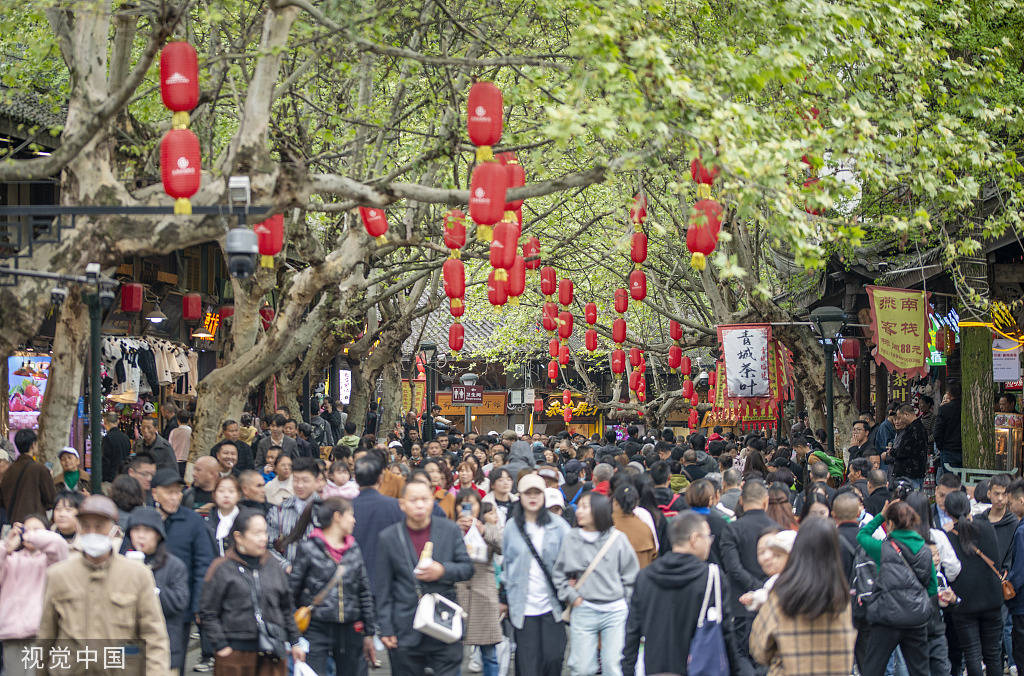 The Chinese tourism industry is expected to be further boosted by the upcoming May Day holiday,with domestic tour orders for the holiday matching the 2019 level, Economic Daily reported on Sunday.
Major online tourism companies, travel agencies, scenic spots, and hotels have reported a surge in bookings, with outbound and inbound trips continuing to rise.
Data from the online travel agency Ctrip shows that as of April 16, domestic tour bookings for the holiday have increased by over 12 times year-on-year, reaching the same level as in 2019 and outbound tour bookings up by over 18 times from a year earlier.
As of April 10, bookings for domestic accommodations, transportation, and scenic spot tickets for the holiday have increased by about 200 percent compared to the same period in 2019, according to data from the e-commerce platforms Meituan and Dazhong Dianping.
The tourism market's recovery is more evident in economically active regions, and the May Day holiday will be a critical window for the full spread of enthusiasm for travel, said Ma Yiliang, an analyst with the China Tourism Academy.
The recovery has been a result of the effective boosting of consumer confidence, the accelerated release of consumer demand, and the efforts of businesses to innovate and adapt to the changing market.
The continuous release of policy effects has also played a role, as cities across the country have made tourism a main focus for expanding domestic demand and boosting consumption, by issuing cultural and tourism consumption coupons, reducing admission fees for scenic spots, and improving of travel services.
Travel agencies are hurrying to bring back group tours as the market recovers. Since the Spring Festival, the recovery of group tours has been encouraging, said Yang Yang, general manager of Shanghai-based travel agency Spring Tour.
A significant portion of group tours are retirees who have a new perspective on consumption and strong purchasing power, and therefore require high-quality group tour products, he added.
With the resumption of cross-provincial and outbound tourism in China, the market for Minsu (Chinese-style bed-and-breakfast establishments) has faced changes. Yang Lin, who manages a Minsu in Beijing, has improved products and services to better the travel experience.
Consumers who signed up for outbound group tours during the upcoming holiday are mainly young people aged 18 to 40, accounting for nearly 70 percent, said Jiang Wen, CEO of Ctrip Travel's group tours.
Airlines are speeding up the resumption of international and regional routes. Data shows that the number of cross-border flights in January has recovered to 10 percent of the same period in 2019, and to 15 percent in February.
The May Day holiday will usher in the first peak of growth for outbound tourism this year, further driving the recovery of airlines and local service capabilities, said Sun Jie, CEO of Ctrip Group.