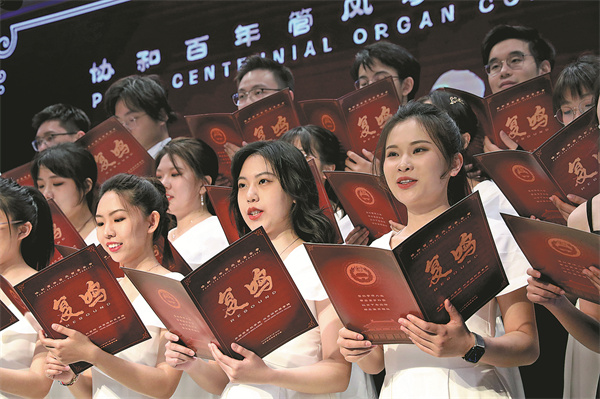 Tucked away among skyscrapers, shopping centers and five-star hotels along Chang'an Avenue in Beijing, the auditorium of Peking Union Medical College — one of China's longest established medical schools — stands quietly and distinctively on the bustling street.
On the night of April 7, World Health Day, a special concert, titled Resound, was held there to celebrate the restoration of a massive theater organ, which was first installed in the auditorium when the building was constructed in 1921.
Organist Shen Yuan opened the concert by playing Johann Sebastian Bach's Toccata and Fugue in D Minor, BWV 565, which is one of the most famous works in the organ repertoire.
"The organ's immersive grandeur and vast sound range offer you a uniquely physical sonic experience, which is unbelievable," says Shen, who teaches at the Central Conservatory of Music in Beijing. "We are thrilled to bring this instrument back to life again."
She also performed music pieces that she adapted for the old instrument, such as Allegro, Chorale and Fugue in D Minor by Felix Mendelssohn and the composer's well-known organ piece, Wedding March. The concert ended with Ode to Joy — the triumphant choral climax of Ludwig van Beethoven's Symphony No 9.