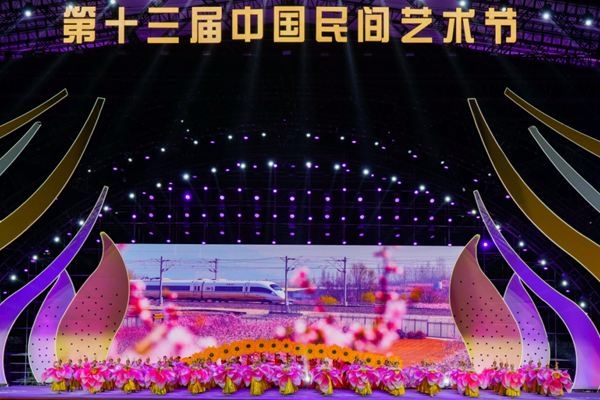 The 13th China Folk Art Festival, which has the largest scale and is the highest level of its kind in China, kicked off in Qingdao West Coast New Area (Qingdao WCNA) on April 20.
The festival gathers prestigious experts and scholars who have been plowing into folk art, as well as 20 first-class art troupes from 18 provinces and autonomous regions staging performances.
The preliminary assessment of the 16th Shanhua Award of Chinese Folk Literature and Art is also taking place at the festival.
A seminar on "Folk Art Helping Rural Vitalization and Common Prosperity" will focus on issues like the development and inheritance of folk art, the protection and utilization of the marine cultural heritage, as well as the training of inheritors.
The exhibition has been open from April 20 to 30 and is displaying peasant paintings that cover diverse folk cultures and profound historical backgrounds to promote handmade artworks in Shandong and tell the world the stories of the Chinese people.
During the festival, folk artists will also visit Qingdao Qianwan Port and Dazhushan Mountain scenic area to voluntarily perform for local residents, and enrich their spiritual and cultural lives.
Known as "a village of modern Chinese folk paintings", Qingdao WCNA has been striving to build a strong culture. To date, the area boasts a total of 86 intangible cultural heritage items and more than 120 works have won art prizes at the municipal level or above.