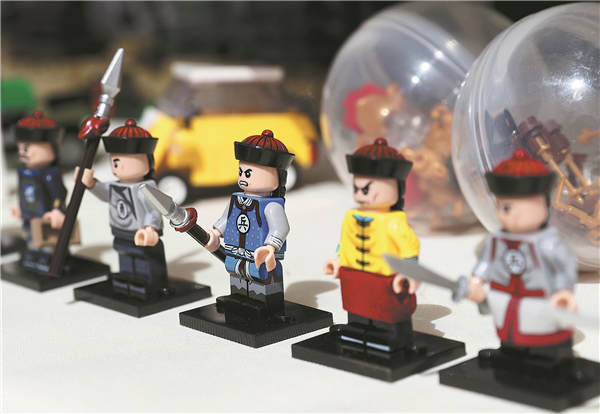 Li Tongzhi, a student of Xiangtan University in Hunan province, won the top award in graphic design at last year's competition. She used a digitized information-visualization approach to vividly unroll the stories of the 12 sculptures.
"Design can enhance history in education," she says. "I just hope my products can inspire more people from various industries to contribute their efforts to bring lost relics back home."
Due to its history of being invaded, Yuanmingyuan is often seen as a focal theme in education promoting patriotism in China, but administrator Qiu says he also expects a better explanation of its value from various facets, so as to contribute to aesthetic education among the public.
In the ongoing third edition of the competition, designers are encouraged to expand their ideas based on the cultural relics of Yuanmingyuan, as well as royal life, traditional festivals, auspicious animals connected with the garden, and Beijing's former imperial resorts as a whole.
A major task of the competition is not only to encourage best-sellers in souvenir stores, but also inspire the young generations to understand history.
Two sections of the competition are particularly set for middle school students that will help youngsters demonstrate their design ideas from new perspectives. Though the 800 yuan ($116) bonus of top prize for the two groups in the competition is not high compared to their adult counterparts, who can win up to 10,000 yuan, professionals understand the significance of encouraging creativity among future generations and revitalizing history.
"I'm shocked and overjoyed to see the young generation's deep thinking of history through their designs," says Tang Jinnan, Party chief of the School of Journalism and Communication at Peking University. "Traditional culture needs to be better told in a dynamic way and can, therefore, be connected with our modern life and even future.
"Yuanmingyuan bears rich history and our collective memory," Tang says. "The competition is just one of many ways to dig deeper into this trove of art. It is the educators' obligation to do so. Fine art that serves public interest will thrive and prosper for long."
Yuanmingyuan literally means the "garden of perfect brightness". Its gloomy days of the past will probably never be forgotten by the nation. However, thanks to more people's creative ideas hailing its beauty, once again, the perfect brightness shines upon this place.