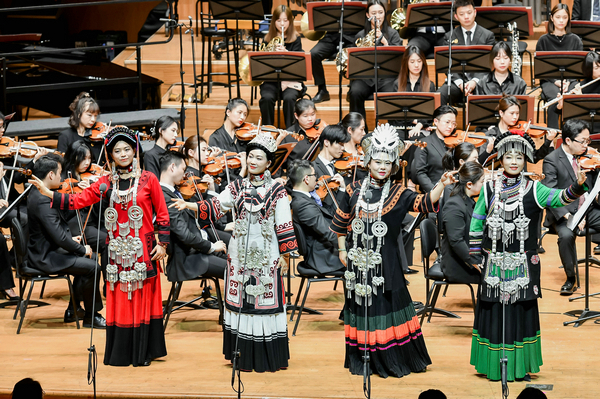 A large symphonic poem, I Love You China, was performed by the Chengdu Symphony Orchestra at the National Centre for the Performing Arts in Beijing on April 13.
Commissioned by the orchestra, the symphonic poem was composed by four Chinese maestros: Zhang Qianyi, Jiang Wantong, Liu Li and Wen Ziyang.
Tenor Shi Yijie and pianist Yuan Jie were featured.
The symphonic poem was inspired by the popular Chinese song, also titledI Love You China, written by composer Qu Cong and lyricist Zheng Qiufeng, which was first released in 1979 as a soundtrack for the Chinese movie, Hai Wai Chi Zi (A Loyal Overseas Chinese Family).
According to Xiao Ying, head of the orchestra, the poem was the first original commissioned work of the orchestra, and evokes the country's splendid scenery.
Founded in 1969, Chengdu Symphony Orchestra performed in the capital as part of the ongoing 8th China Orchestra Festival.