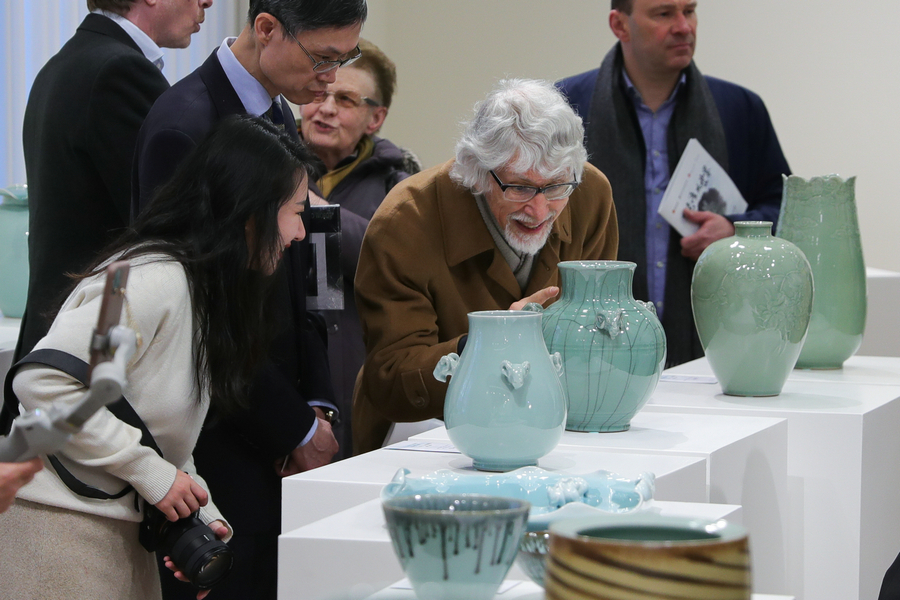 The opening ceremony of the "Longquan City Celadon Art" exhibition was held Monday at the Chinese Cultural Center in Brussels, with 55 works made by Chinese artists on display.
Chinese Ambassador to Belgium Cao Zhongming said at the ceremony that the exhibition will help the Belgian public to appreciate the cultural heritage and exquisite craftsmanship of Longquan Celadon. It will also boost ties between the two countries, he said.
Longquan Celadon porcelain is known for its elegant colors, especially jade green and light blue.
It is one of the most characteristic Chinese goods, historically exported via the land and sea "Silk Roads", Cao said.
"Celadon" is the hero of a famous French play, "Astree". When the porcelain was first shipped to Europe in the late 16th century, the local people compared the color of the glaze to that of Celadon's clothing. Since then, Longquan porcelain has been called Celadon.
The 55 works on show at the exhibition in Brussels include a flask called "Song's Charm", an imitation of the classical objects from the Southern Song Dynasty; a statue of the Wenchang Emperor; a Lucky Rabbit; a vase with a Silk Road motif, and a pot for washing brushes.
In 2009, the traditional firing technology of Longquan Celadon was listed by UNESCO as an intangible cultural heritage of humanity.
The exhibition is a testament to the heritage and development of Chinese craftsmen's Celadon skills, and also expresses the aesthetic tastes and aspirations for a better life of the Chinese people, said Cao.
The exhibition will last till April 28.