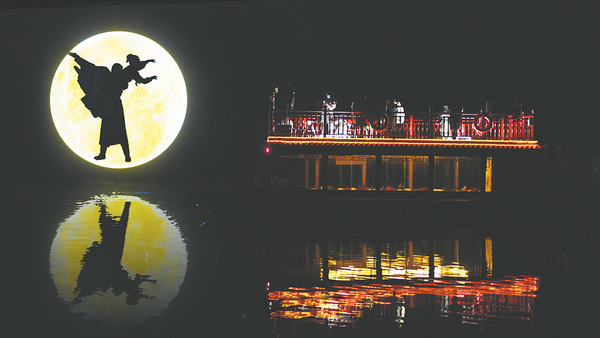 From digital avatars to dazzling light shows, increasingly advanced and immersive technologies are being deployed to develop an enticing suite of tourism offerings, report Zhu Baoxia and Xing Wen in Huichang, Jiangxi.
Imagine a theatrical play where steep cliffs act as a canvas for mesmerizing animations, stages nestled along the riverbank dazzle with twinkling lights, and the audience sits on a drifting boat. As the vessel glides leisurely down the river, a mythical story unfolds amid the stunning scenery.
At Hanxianyan, a renowned tourist attraction in Huichang county, Ganzhou city, Jiangxi province, such an immersive experience is not just a figment of the imagination. There, audiences can witness the captivating tale of Han Zhongli, a revered figure in Chinese mythology and one of the Eight Immortals of Taoism, brought to life through shimmering lights reflected both on the shore and in the water.
Han was said to have resided in the mountainous area of Hanxianyan. And the play, named Wu Dao (roughly translated as "the realization of the way"), narrates a tale of Han, who, with the aid of seven other immortals, triumphs over an evil dragon and transforms it into a mortal being. This newly formed human is later subjected to a host of life's trials, which are related to wealth, love, desire and death. The transformed creature, named Long An, manages to endure the challenges, cultivating a profound inner strength and achieving enlightenment.
Following Long's journey, the audience is drawn into a world of mysticism and self-discovery.
"The script's creation was based on the profound culture of Taoism. We hope that it will not only be an audiovisual feast that entertains people, but will also inspire them to reflect on their lives," says Qu Guojun, chief director of the show.
As an established lighting designer, Qu has worked on many festival galas and large-scale cultural-tourism performances.