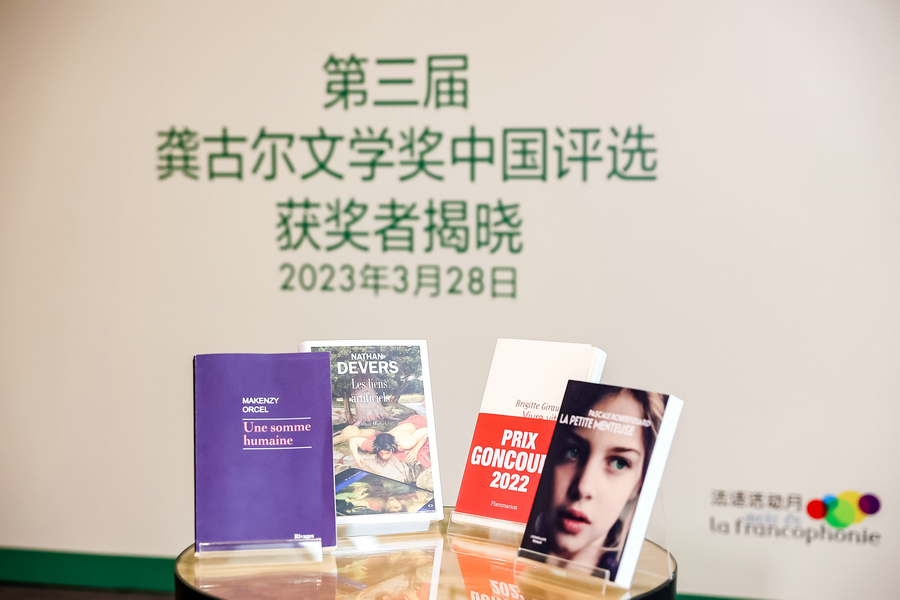 Three other French works — Les Liens artificiels (Artificial Links) by Nathan Devers, Une Somme humaine (A Human Burden) by Makenzy Orcel and La Petite Menteuse (The Little Liar) by Pascale Robert-Diard — won the hearts of jury members and made the shortlist.
Lortholary said in his speech he sees the Choix Goncourt China, an offshoot of France's 120-year-old literature prize, as a significant event to showcase "contemporary French culture, spread French literature as well as promote the education of French in China."
Du Qinggang, a professor of French studies at Wuhan University and advisor to the Choix Goncourt China, and two representatives of the student jury participated in the conference and shared their thoughts on Giraud's work.
Vivre Vite also won Giraud, born in 1960, the 2022 Goncourt Prize last November. Published by Flammarion, the novel recounts a chain of events that led to the motorcycle accident that killed her partner in 1999. With a series of "What ifs", the novelist reflects on the role chance plays in life.
On Wednesday, the Goncourt Prize laureate joined two jury representatives of the Choix Goncourt China 2022 for a livestreamed discussion held by the French Cultural Center.
According to the French embassy, the Chinese version of Giraud's winning work will be published by Xiron, a Beijing-based publisher.