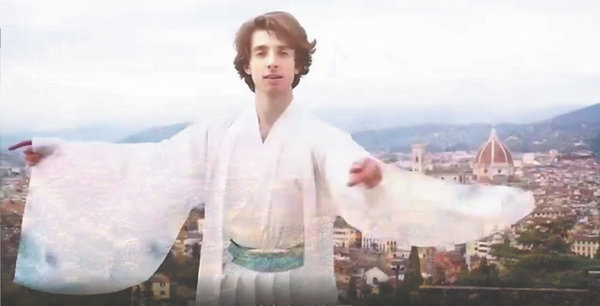 ROME — Niccolo Filippi, a 23-year-old Italian dance performer, sees his life as a book waiting to be written and relishes the opportunity to fill its blank pages with various cultures in which he immerses himself.
Having spent more than a decade on the dance floor, Filippi recently decided to explore Chinese culture and its traditional dance forms and believes that this experience will not only boost his career, but also broaden his horizons beyond the world of dance.
Filippi began his dance journey at the age of 5, starting with hip-hop, jazz and specializing in Latin-American dance. He won the Italian Championship for Latin American Dances in 2021.
However, his interest in diversifying his skills grew after he stumbled upon a short video of traditional Chinese-styled dance on YouTube.
"I saw it as an art that combines tradition and modernity, which was mostly the reason that I liked it," says Filippi.
Ever since, he has been closely following Chinese dance performers and watching numerous videos to learn more about the traditional style that he admires. "I prefer the traditional style because of its light movements. It also reflects my personality with elegance," he adds.
Despite never expecting to have an opportunity to perform traditional Chinese dance, Filippi's chance came when he was invited to perform for a Chinese New Year celebration in the central Italian city of Florence.
He has since fully committed himself to the art form, learning several pieces and putting his newfound passion into practice.
"The biggest difference that I found (compared to other disciplines) is the change of mood and emotional expressions among dances," says Filippi, adding that he needed to shift from the dynamic moves of hip-hop to the graceful and fluid movements of Chinese dance.
Apart from the challenging choreography, Filippi also encounters language barriers. He says he has difficulty understanding the lyrics of the songs he dances to.
"I barely understand anything in the songs. I usually have to study the lyrics, get a translation, or ask a friend to explain it," he says. However, he believes that the music's emotional essence transcends language and words, allowing him to connect with the music and dance to it effortlessly.
Despite these obstacles, Filippi's efforts have not gone unnoticed. Two of his friends shared videos of his performances on social media, and the response was overwhelming. One video garnered 500,000 views, while the other received 200,000 views.
The comment section was filled with over 1,000 comments in Chinese, and, upon translation, Filippi discovered that most were praising his skills. Filippi was thrilled to receive so much positive feedback and was amazed at the popularity of the videos.
Filippi believes that learning about different cultures is priceless, and he sees it as a means of personal growth.
"I like to think of a person as a book, with their past writing some of the pages and infinite ones waiting to be filled with new experiences," he says. "Embracing different traditions and cultures, such as Chinese culture and many others, is like adding new chapters to my book, making it more diverse and wonderful."
Residing in Florence, a city renowned for its artistic heritage and home to a sizable Chinese migrant community, he says many Chinese students visit Italy to study various forms of art and immerse themselves in the country's vibrant culture.
Conversely, a growing number of Italians are also showing a keen interest in Chinese culture, learning the language, delving into traditional Chinese art forms, and gaining insight into China's rich history and traditions.
As a young child, Filippi harbored a long-standing dream of one day visiting China. However, as he matured into an experienced dancer, his fascination with the country transcended mere tourism.
He yearns to explore the intricacies of Chinese culture and traditions, aspiring to broaden his horizons and develop as an individual, with a desire to learn that has extended beyond his love of dance.