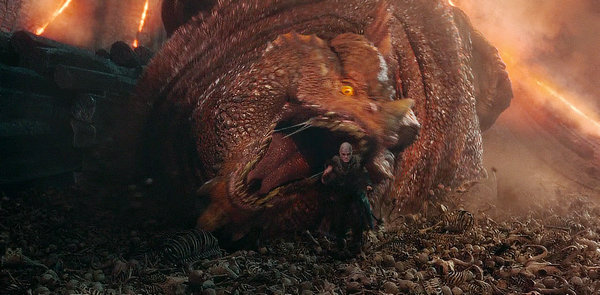 In both Chinese and Western mythologies and folklore, the dragon — a fierce and powerful creature — is usually depicted as well-proportioned and muscular. However, audiences will see an unconventional twist with the portrayal of a short and chubby dragon in the upcoming Hollywood movie Dungeons & Dragons: Honor Among Thieves.
Featuring a star-studded cast including Chris Pine and Michelle Rodriguez, the film is set to be released in China and North America on March 31.
Based on the popular role-playing game Dungeons & Dragons, the movie is packed with stunning visual effects and action. The story follows a charming thief who assembles an unlikely team to retrieve a magic helmet from an extremely dangerous underground world inhabited by the dragon. Although he originally only seeks to rescue his misguided young daughter, he and his fellow fighters find their inner justice awakened to fight against an evil witch.
The movie held a preview screening and premiere event respectively in a cinema and a bar in eastern Beijing on Thursday with the main cast appearing in an online talk.
While Pine said the movie's co-directors John Francis Daley and Jonathan Goldstein gave him the freedom to unleash his comedic talent, Rodriguez shared that she drank a lot of protein drinks and trained five times a week to achieve the physique of her role as a strong warrior.