Distinctive handmade products showcasing Chinese culture and art proved popular at the 2023 China cross-border e-commerce trade fair that opened on March 18 in Fuzhou, East China's Fujian province.
Hand-made items have been a very popular category in cross-border e-commerce trade and there is a rise in the craze for Chinese cultural items overseas, says Huang Chaoying, head of communication work with the three-day fair.
"We've attracted more than 100 hand-made enterprises at the fair this year," Huang says.
"A considerable number of them carry Chinese cultural connotations," he adds.
Dou Weiyong with Fuyue Daily Necessities Manufacturing Co, based in Shaowu, Fujian, has been approached by many international buyers.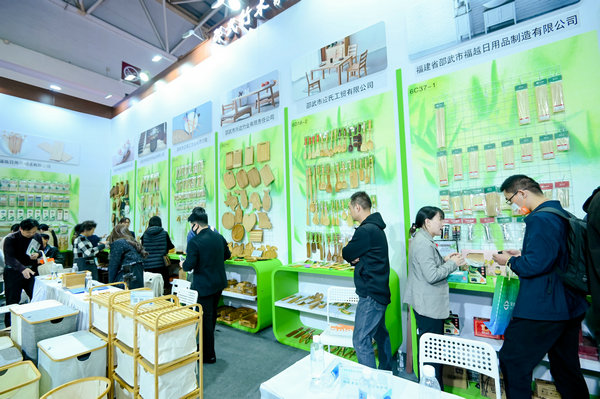 "Many international buyers, especially those from Europe, have shown great interest in our bamboo products," Dou says. It is the second time he has joined the fair.
"We had three booths showcasing our products this year, as opposed to just one which is what we had last year, and we also increased the varieties within our products," says Dou.
Zhang Bin from Beijing Meida Technology Co was also surrounded by visitors at the fair asking about details of the delicate works featuring the country's palatial art from the Ming (1368-1644) and Qing (1644-1911) dynasties.
"We joined the fair to test the water, and the feedback has been very positive," Zhang says.
"Next, we will bring more products featuring traditional Chinese culture and related elements to the overseas market," Zhang says.