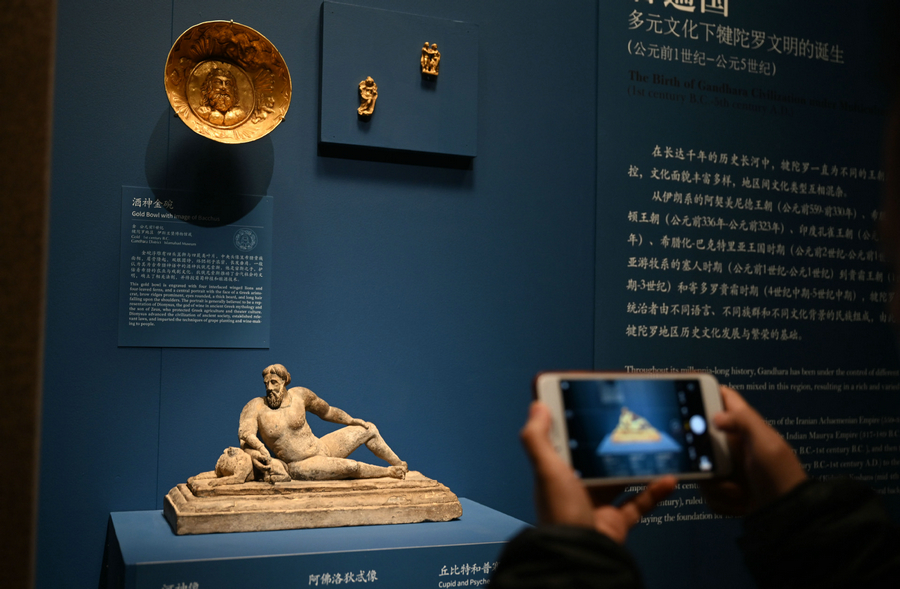 Gandhara Heritage along the Silk Road, the largest exhibition of Gandhara art held in China to date, kicked off Wednesday at the Palace Museum in Beijing.
Co-organized by China's Palace Museum and the Department of Archaeology and Museums of Pakistan's National Heritage and Culture Division, the Pakistan-China joint exhibition brings together 203 Gandhara artifacts, 173 of them loaned from the collections of seven Pakistani museums and 30 from the Palace Museum.
Apart from life-size and small statues of Siddhartha and Buddha which depict his birth, early palace life and the periods after enlightenment, the artifacts, mostly archaeological finds dating between the 2nd century B.C. and 10th century A.C., also include parts of Buddhist pagodas, gold and silver vessels and jewelry, highlighting the period's diversity and glamour.
Gandhara was an ancient region located in present-day northwestern Pakistan and southeastern Afghanistan. Gandhara art, a Buddhist visual art form, developed and flourished in this region between 1st century B.C. and 7th century A.C. and was heavily influenced by Greco-Roman art.
The Palace Museum exhibition runs until June 15.