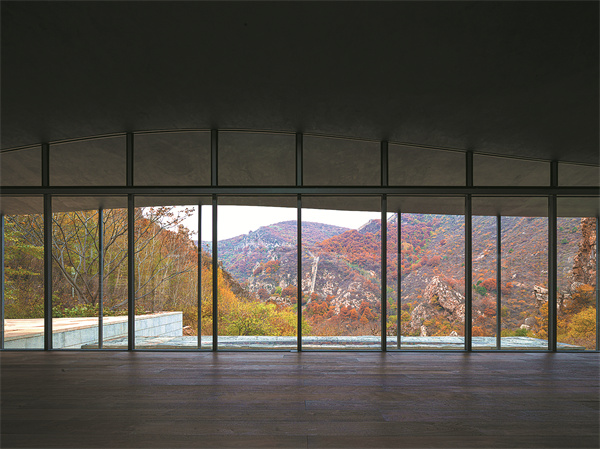 In winter, Jinshanling Great Wall looks like a snowy wonderland. The early morning frost descends upon the mountains, cloaking them in a shimmering blanket. As the sun rises higher and thins out the fog, the jagged peaks and rocky outcrops start to glitter.
The snowcapped mountains, dark gray tree branches, rugged valleys and yellow rock faces, all give off a strong sense of antiquity. It is a scene of rare beauty, further accentuated by a piece of recently built architecture in the vicinity.
The building, known as the Jinshanling Shangyuan (upper cloister), is a public space open to travelers, sitting in a valley at the foot of the Jinshanling section of the Great Wall. This piece of the snaking structure of fortifications complex, which reaches far into the deserts of western China, is located close to Beijing, near Chengde, the Qing Dynasty (1644-1911) summer retreat in Hebei province.
Flanked by cliffs and facing the ancient defensive fortification, the building covers an area of 615 square meters and features a combination of courtyards, platforms and halls. The entire building appears to be a natural extension of the valley, with winding paths leading visitors to immerse themselves in the surrounding natural beauty.
The main entrance is located in the southeast, and "in the morning, you can see the sun rising from a frame on the roof," says Liu Yichun, architect of the structure.