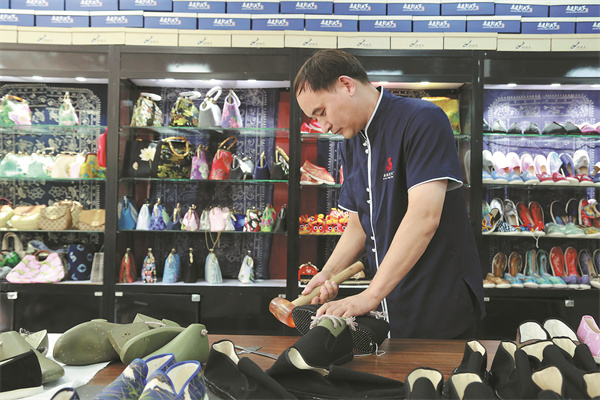 Cloth shoes with "thousand-layered soles", called qiancengdi buxie in Mandarin, have long been deemed by the Chinese, especially the older generation, as a sign of their mother's love. The shoe certainly is a work of devotion. Thousands of stitches have to be applied to fashion them out of layers of paper-thin cloth.
Although modern shoes made with high-tech materials have claimed center stage, traditional handmade cloth shoes have managed to survive the test of time and hang onto a niche market.
Duan Yuguo has tapped into the desire of those who seek comfort the old fashioned way and turned his family shoemaking heritage into a growing business that brings benefits beyond his family walls.
A group of women laid siege to Duan in early February, listening attentively as he demonstrated tips on how to make a special kind of shoe that has been passed down through his family for generations.
After Duan finished, he got them to practice. At his workshop in Gaozhuang village, Ruyang county, Luoyang, Central China's Henan province, he taught them to pound the soles, trim rough edges and shape the shoes.
During the process, Duan watched them closely, giving instructions to ensure their operations were on the right track.
"When sewing the shoe top, if the stitching is not straight, even by an inch, it can affect the appearance of the shoe and make it look less attractive," says Duan, who is in his 40s. "You just have to stick to the methods that work and practice them over and again, and things will turn out fine."
An array of simple but plush cloth shoes featuring diverse elements — including refined Suzhou-style embroidery, images of tiger heads and fashionable patterns — take up considerable space in Duan's workshop, making it look like a shoe museum.
"The shoes are crafted entirely from cotton and linen fabrics, using a composite made of flour and water as glue, without any chemical additives," Duan says. "This gives the shoes a breathable quality and makes them comfortable to wear."