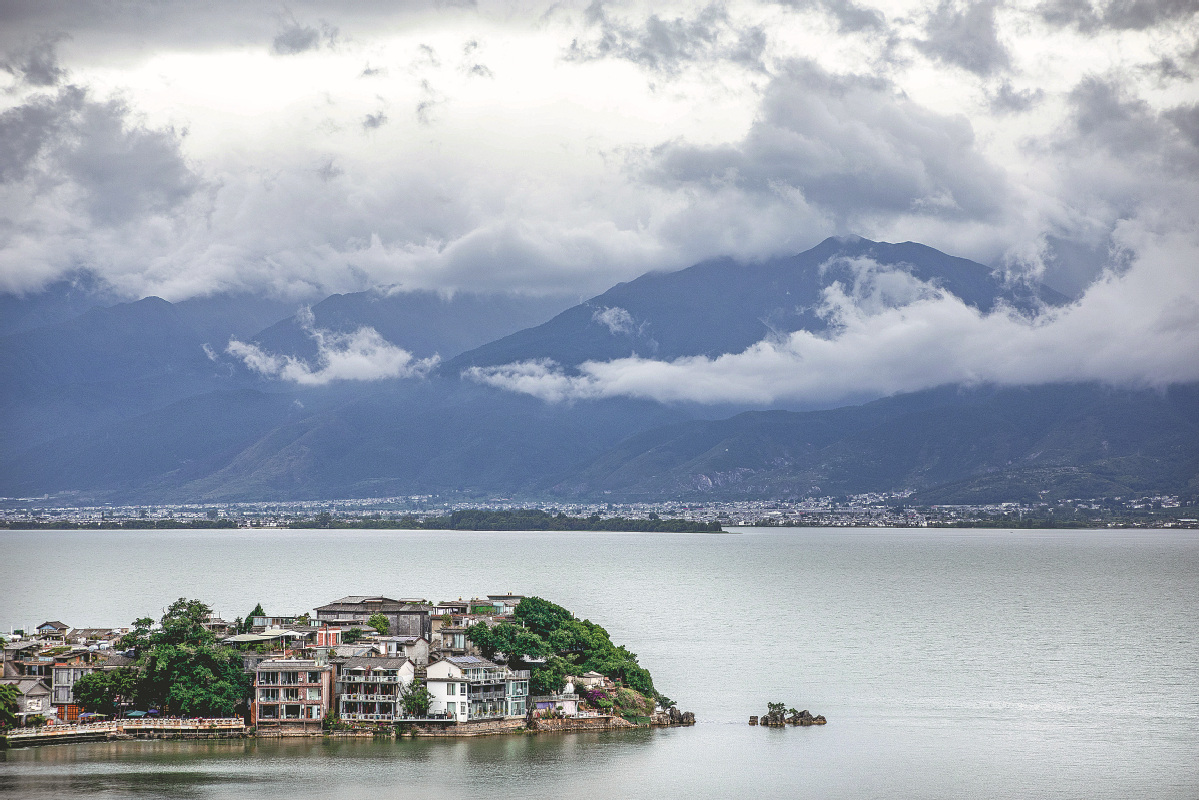 Tourists taking selfies have lined the roads of Fengyangyi village in Southwest China's Yunnan province since the soap opera Meet Yourself was filmed there, garnering more than 3.8 billion views.
The romantic drama tells the story of a woman who, after the death of her best friend, quits her job as an urban white collar worker and travels to Yunnan, a top tourist destination in China, where she enjoys a slow life and falls in love with an entrepreneur.
Scoring 8.6 out of 10 on China's leading film rating platform Douban, the TV series, set in a beautiful mountainous landscape, satisfies its audience's desire to watch rural life unfold and find inner peace. It has led scores of fans to visit the show's filming locations and try everything that the main characters experience.
The Dali Bai autonomous prefecture is home to many of the show's filming locations, including Fengyangyi village. Dali recorded nearly 4.24 million tourist visits during this year's Spring Festival holiday, up 219 percent year on year, according to its culture and tourism bureau.
Its tourism revenues during the holiday hit 3.16 billion yuan (about $455 million), up 162 percent year on year. Rural tourism industries such as catering and hospitality in Dali have ushered in a new chapter of development.
"I watched every episode of the TV series, and my focus changed from the leading roles to the idyllic lifestyle in Yunnan," said Li Hui, a tourist who traveled to Dali by high-speed train with her friends from the southwestern Chinese city of Chengdu.
"The TV series takes a slow lifestyle as its keynote, showing modern young people's views on self-fulfillment and spiritual freedom from multiple aspects, such as returning home to start businesses to aid rural revitalization," said Wang Yichuan, vice chairman of the China Literature and Art Critics Association.
Wang said the drama warms the hearts of its audience with the beauty of rural China.
"After the TV series was aired, the daily number of visitors to Fengyangyi village increased from below 100 to nearly 10,000," said Chen Qin, an official of Liuguanchang village, which administers Fengyangyi.
Chen said that through the integration of rural revitalization work and the film and television industry, Fengyangyi has embraced rapid development in its culture and tourism industry, which has driven the employment and entrepreneurship levels of local residents.
"The Chinese countryside has become a place of healing for those living and working in big cities," Chen said. "We hope our village will always retain its healing power and provide a great experience for visitors."
The Shaxi ancient town in Dali's Jianchuan county, another of the show's filming locations, received 141,800 tourist visits during the Spring Festival holiday, up 237.02 percent year on year, with tourism revenues growing nearly 188 percent to 110 million yuan.
"The soap opera has enhanced Shaxi's visibility and popularity," said Yang Ting, deputy director of Jianchuan's culture and tourism bureau.
Zeng Jirong, a graduate of the Guangzhou Academy of Fine Arts, was engaged in photography in the southern Chinese city of Guangzhou before moving to Dali in early 2018.
"The quiet and simple life in Fengyangyi village attracted me to stay," said Zeng, who has established an illustration studio in Dali. Rural life has become a never-ending source for his work, he added.
"The TV series shows the charm of rural China. I believe that more people will live and start their own businesses in the countryside," Zeng said.