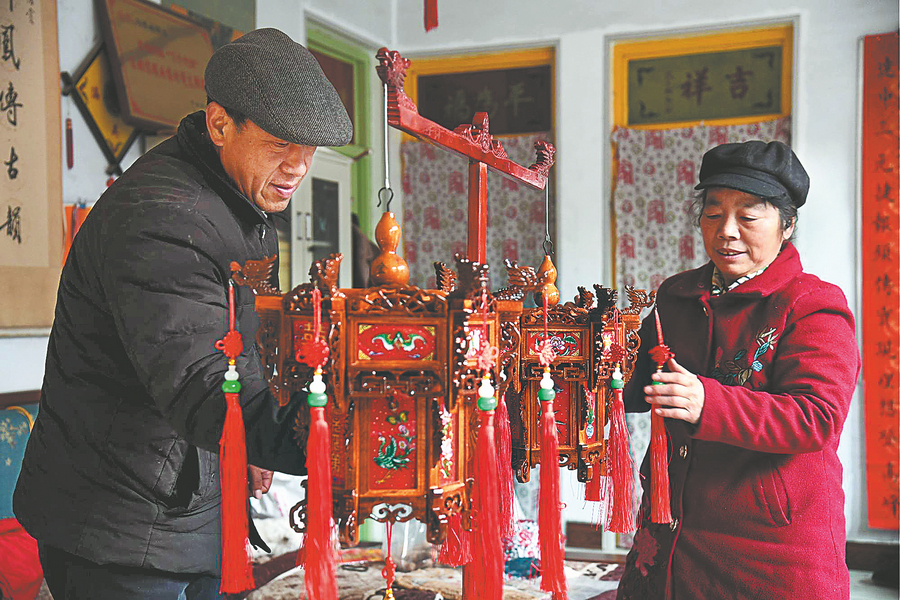 Dedicated craftsman makes palace lanterns, preserving tradition, report Wang Qian and Sun Ruisheng in Taiyuan.
Combining techniques with delicate designs, palace lanterns have long reflected aesthetics. The first kerosene-lit lamp in China appeared on a Shanghai street in 1843. However, the handicraft was under threat of vanishing.
In Feng Huailin's studio in Wangshouzhuang village, Yuncheng, Shanxi province, the 62-year-old lantern maker still works with traditional techniques, dating back to the Qing Dynasty (1644-1911), inherited through his family.
With its origins in the Eastern Han Dynasty (25-220), lantern-making reached its peak during the Qing Dynasty when palace lanterns became a common scene at the imperial court.
Consisting of nearly 300 wood components, a set of palace lanterns usually takes Feng and his wife Duan Jinju at least a month to make. Large sets take them up to three months.
"My childhood memories are connected to lanterns as both my father and grandfather made them," Feng says, adding that it has been a local tradition to gift a set of palace lanterns from grandparents to their newborn grandchildren as blessings for a bright future.
Although Feng is a talented carpenter and good at drawing, he didn't think about inheriting the family business until his son was born in 1987.
"The idea came to me that I wanted to make a lantern for my son," Feng says.
Based on the design drafts passed down generations, Feng and Duan followed his predecessors a century before them. From wood selection to assembling, it took the couple more than two months to finish their first palace lantern.
Feng still remembers how cold the night was when they forgot about time while making some lanterns, with their fingers and arms swollen after a long time of woodcarving work. Then for 10 years, Feng did various jobs, but when back home, the craft took up all his leisure time.