The Chinese version of iconic Russian musical Anna Karenina, adapted from Leo Tolstoy's iconic novel, is touring in Chinese cities.
Directed by Alina Chevik and choreographed by Irina Korneeva, the original Russian musical premiered in 2016 at Moscow's Operetta Theater with a score by Roman Ignatyev and a libretto by Yuliy Kim.
The musical follows the dramatic and ill-fated love story between the married Anna Karenina and a dashing military officer, Alexey Vronsky. The characters struggle with love and betrayal, passion and duty, hope and desperation.
Chinese bass-baritone singer Hong Zhiguang plays the role of Vronsky and Li-Tong Hsu plays the role of Karenina.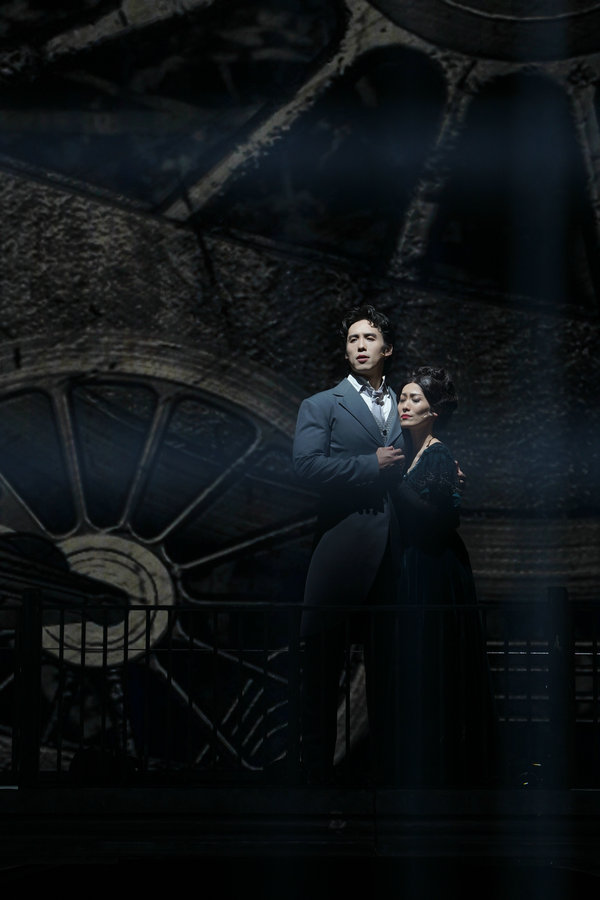 Trained at China Conservatory of Music and later in New York to study at the Mannes School of Music for a master's degree in 2014 and for an artist diploma from the Yale School of Music in 2016, Hong says that he started training by reading the novel and scripts of the musical. Due to the pandemic, he slowed down his performances and spent lots of time at home working on the role of Vronsky. "One of my favorite scenes in the musical is when Anna meets Vronsky for the first time. It is the moment they fall for each other," he says.
The singer has performed in numerous operatic productions produced by international theaters. For example, he performed alongside Placido Domingo in the classical opera Thais, created by French composer Jules Massenet and produced by the National Center for the Performing Arts in Beijing. He also played the role of Wen Tianxiang, a patriotic scholar-general of the Song Dynasty (960-1279), in Marco Polo, an original Chinese opera based on the story of the famous Italian explorer.
Anna Karenina is Hong's first Chinese musical experience, which he calls "a highlight" of his career.