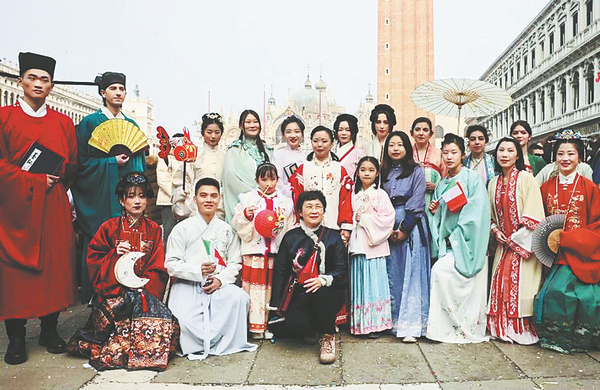 VENICE, Italy — Chinese traditional clothing made its debut at the Venice Carnival amid deepening cultural exchange between the eastern Chinese city of Suzhou and its sister city, Venice.
A total of 16 Chinese and Italian volunteers, wearing hanfu, an ancient clothing traditionally worn by ethnic Han Chinese, participated in a parade launched at the Piazza San Marco in the lagoon city center.
"This is the first time that Chinese traditional costumes have officially participated in the carnival," says Ma Xiaohui, a director at the Confucius Institute of Ca' Foscari University of Venice.
The clothing, directly transported from the Suzhou Silk Museum in Jiangsu province, was themed around the Han (206 BC-AD 220), Tang (618-907), Song (960-1279) and Ming (1368-1644) dynasties, effectively displaying Chinese culture and world-renowned Suzhou silk, Ma says.