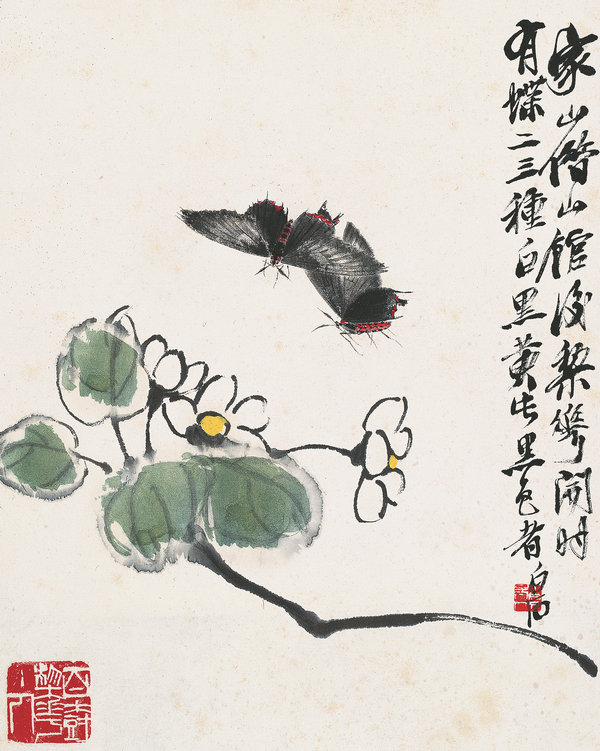 Creature feature
Flourishing Lives, Interconnected Cultures, an ongoing exhibition at the Beijing Fine Art Academy, creates a chemistry between Eastern and Western art in terms of the depiction of insects, by comparing the similarities and differences in cultural meanings embedded in such small living beings.
The show puts together Qi Baishi's paintings of insects surrounded by various kinds of plants and images of Cocharelli Codex, a 14th-century Italian collection of manuscripts that is richly illustrated with a variety of insects as representations of virtues and vices.
Under the brush-stroke of Qi, an ink master of the 20th century, insects, plants and small birds were portrayed to express his feeling of the vibrancy and fragility of life. Qi once wrote in a poem: "The garden is thriving, and all the plants are interlinked."
His vivid depictions of insects were drawn from his experience of raising them and cultivating a blooming garden at home, which enabled close and long observation on a daily basis. Qi saw in them a similar humble, uncertain situation that he found in himself. He described himself as someone who eked out a life at the grassroots. Meanwhile, he saw extraordinary qualities in the creatures and painted them so that viewers of his works would notice. The exhibition will end on March 19.
9 am-5 pm, closed on Mondays. 12 Chaoyang Park South Road, Chaoyang district, Beijing.010-6502-5171.