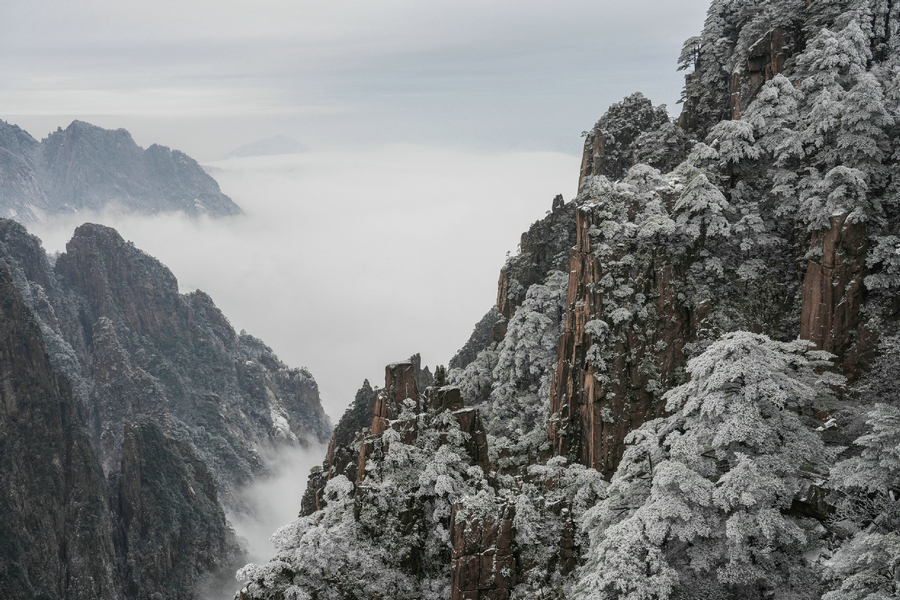 Soon after a cold wave of air swept across Huangshan Mountain, in East China's Anhui province on Tuesday, the famed mountain sported a new rime-covered look. The frosty scenery of the mountain has inspired photos that evoke the serene ambience of ancient ink paintings dedicated to it.
Huangshan Mountain is included on both UNESCO's world cultural and natural heritage lists. It is a UNESCO Global Geopark characterized by its Mesozoic granite landscape.
It has numerous imposing peaks, massive granitic boulders and ancient pine trees. Growing from cracks in the rocks, some of the pine trees are gnarled, while some stand sentinel, with umbrella-like canopies remaining green throughout the entire year. In winter and spring, frost crowns the pine needles, turning the view into a winter wonderland.
There's a saying that claims Huangshan exhausts people's expectations of a mountain. Through the ages, it became a special place for hermits, monks, poets and painters, who have left behind art and literary works inspired about their time at the mountain.