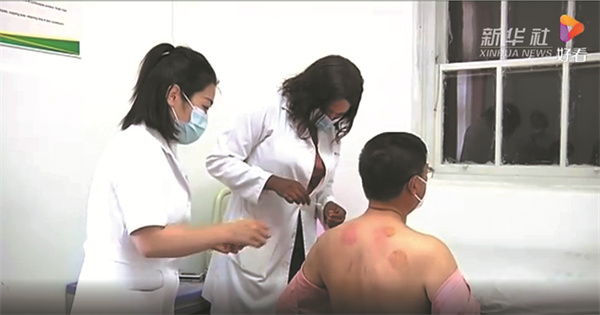 Not even slightly alarmed by the thin acupuncture needles penetrating her body, the patient remained calm as she received treatment from the age-old healing practice.
Tatenda Chimbunde, the acupuncturist who was under the watchful eye of a senior physician all the time, recently graduated from a traditional Chinese medicine and acupuncture personnel training course at the Zimbabwe-China TCM and Acupuncture Center at Parirenyatwa Hospital in the capital Harare.
On a typical day, Chimbunde can barely catch a breath as she attends to patients who flock to the center to receive treatment free of charge.
"I graduated from the China Pharmaceutical University last year as a pharmacist. During my time in China, I also learned the identification of traditional Chinese plants which are used as herbal medicine," Chimbunde says.
Chimbunde has mastered the art of multitasking. She not only excels in acupuncture, but also speaks fluent Chinese and provides translation services between locals and Chinese visitors at the center.
"Most of my time, I practice as a pharmacist. As I have a certificate, I also practice acupuncture alongside the Chinese doctors," says Chimbunde.
She is one of 10 healthcare workers who successfully graduated from an acupuncture training course in December.
"During the first days (of the training), we were just overwhelmed seeing how the doctors did everything, and we were wondering if we would also be able to do that. Then, we did the theory part, where we learned the in-depth knowledge about acupuncture, its origins, and how it is used in therapeutics," she says.
Besides acupuncture, Chimbunde learned about cupping, a deep tissue massage and detoxification technique, which is another component of TCM. "I also learned what we call moxibustion. Moxibustion is mostly used to expel cold from our bodies," she says.
The Zimbabwe-China TCM and Acupuncture Center was established in 2020 as part of efforts to offer Zimbabweans affordable medical alternatives.
The introduction of the acupuncture training course was meant to make the service more accessible to Zimbabweans as more people seek TCM treatment.
Chimbunde's mentor is Zhu Wei, a TCM doctor and the head of the Chinese medical team in Zimbabwe.
"I taught Tatenda acupuncture, moxibustion, scrapping, cupping, massage, etc. She has learned a lot. At present, she can do acupuncture for the patients," says Zhu.
Chimbunde says, in her experience with acupuncture, she has seen patients recover from migraine headaches, lower back pain, joint pains and other ailments.
Besides her qualifications as a pharmacist and acupuncturist, Chimbunde has immersed herself in Chinese culture, learning the language and martial arts.
"I am glad to say that I managed to learn the Chinese language when I studied in China. Apart from being a pharmacist and acquiring acupuncture skills, learning the Chinese language has widened my horizon," she says.
Zimbabwe and China share a long history of cooperation in the health sector. Since 1985, China has dispatched 19 medical teams to the southern African country.
In Zimbabwe, traditional knowledge systems and medicines play an important role as an affordable source of treatment.