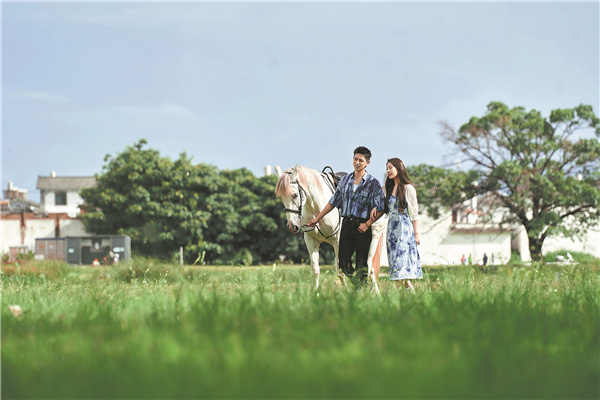 Burned-out main character in TV series swaps bustling city streets for natural pursuits, Xu Fan reports.
Nothing is probably more healing than escaping fast-paced metropolitan life to recharge in an idyllic village. This is the option facing Xu Hongdou, an exhausted white-collar city dweller, in the popular TV series, Meet Yourself.
With the protagonist Xu, played by A-list actress Liu Yifei, marking her modern drama debut, the 40-episode series has earned a high score of 8.4 points out of 10 on the country's major review aggregator Douban.
Aside from its domestic run on Hunan Satellite TV, streaming platforms Mango TV and Migu Video, the drama has been distributed overseas, streamed on You-Tube in four subtitled languages — Vietnamese, Indonesian, Spanish and Arabic — to reach a huge viewership of 260 million people. It has also been broadcast in multiple countries in North America, Europe and Asia, and is scheduled to be released in South Korea and Cambodia, according to the distributors.
The popularity of the TV series has boosted the tourism of Yunnan province, the main setting, exemplified by trending hashtags like "Following Xu Hongdou to eat Dali flower cakes" on major social media platforms, including Sina Weibo, according to the Yunnan Provincial Department of Culture and Tourism.
For most viewers, the tale resonates and tugs on their heartstrings. Appearing as an aspiring Beijing five-star hotel manager in the opening episode, Xu leads an intense life, as most young people striving for career success in big cities tend to do. However, the passing away of her best friend, also a young woman once dreaming of a promising future through hard work, prompts her to take a break and rethink the meaning of life.