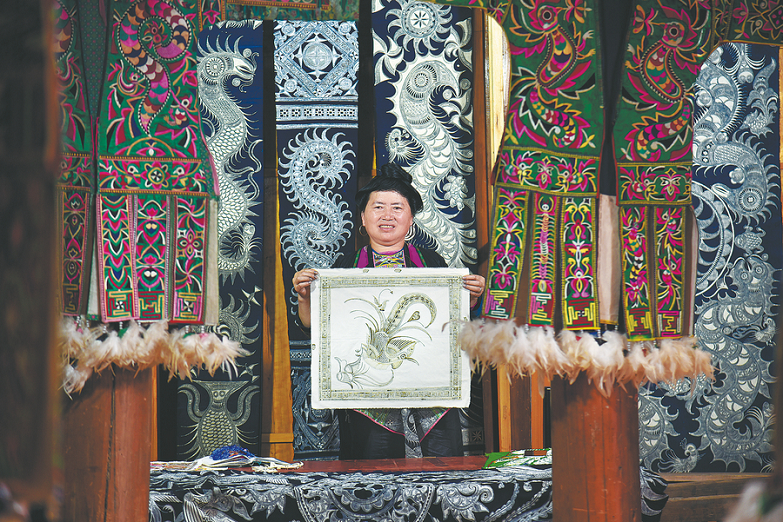 Jiang Laoben remembers fondly celebrating traditional ethnic Miao festivals as a girl in her home village. Of all the festivals, she enjoyed the Guzang Festival the most.
Born and raised in Baibei, Rongjiang county, Southwest China's Guizhou province, which is home to more than 2,000 Miao people, she is 60 years old now, but her early impressions of the festival are still vivid.
"What I loved most was watching people wearing traditional Miao clothes — especially the gorgeous bainiaoyi, or hundred-bird dress, which features many hand-embroidered birds — and the raising of long, narrow flags with batik patterns, which were so beautiful," recalls Jiang.
Unlike other festivals in China, which are usually held annually, the Guzang Festival, established by the Miao people to worship their ancestors, takes place every 13 years.
It's a multiday celebration, in which the Miao don traditional costumes and perform folk music and dance, set off firecrackers, host bullfighting competitions and sacrifice pigs and cattle.
The festival has become a major draw for tourists, who are eager for a glimpse of Miao life, and these traditional aspects of Miao culture that have survived and kept pace with China's contemporary metamorphosis. It was also among the first items to be listed as a national intangible cultural heritage in 2006.
The festival was held between Dec 23 and 30. Thousands of Miao people from across the region gathered at Baibei village, one of the oldest villages in Guizhou, to witness the grand opening ceremonies.
Jiang was there to participate, making two bainiaoyi for young women in the village to wear at the celebrations. She started on them over a year ago; each is worth about 60,000 yuan ($8,890).