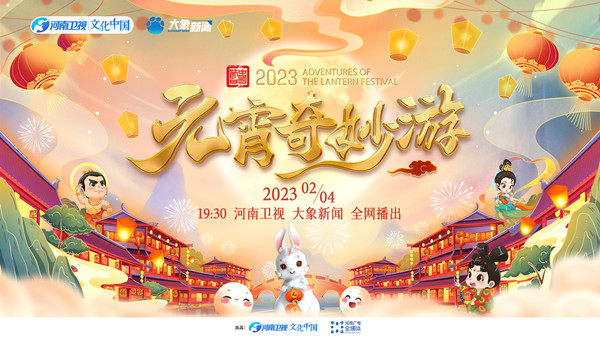 To welcome the Lantern Festival, Henan Satellite TV will broadcast the show Splendor of Ancient China: 2023 Adventures on Lantern Festival at 7:30 pm, Feb 4 (GMT+8), continuing its Chinese festival series program.
The show mirrors the inheritance of traditional Chinese festivals through a retrospect of lantern festival celebrations in different dynasties over thousands of years' history.
"We hope to lead the audience into a wonderful cultural tour of the Lantern Festival in different dynasties. By conversing with people from the past and experiencing diverse customs, the audiences will feel what the ancient people felt. In a wave of nostalgia, they will be filled with reverence for the traditions of this festival," Feng Zheng, the chief director of the show said.
The show was shot in Zhengzhou of Henan province, Zhaoqing of Guangdong province, Wuxi of Jiangsu province and Xiangshan of Zhejiang province, creating a unique visual feast by combining on-site shooting with visual effect technology.
Connected with stories, the show features young dancers Hu Yang and Hao Ruoqi showcasing the beauty of Chinese-style dance; singer Zhang Yuan will interpret the festival through his voice; Guan Yue and Lei Songran will bring their comedic skills to entertain audiences.
Lantern Festival, falling on Feb 5 this year, has traditions such as viewing lanterns, guessing lantern riddles, dragon lantern dances and eating yuanxiao or tangyuan, which is made of glutinous rice.
Watch Live:
YouTube: https://www.youtube.com/ChinaCultureOrg
Facebook: https://www.facebook.com/chinacultureorg