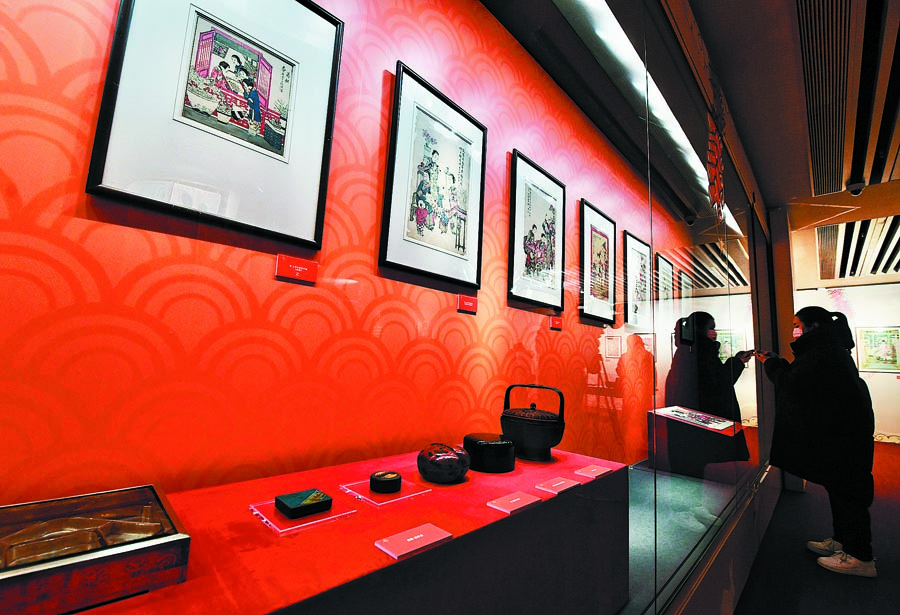 Traditional and various ways of celebrating Lunar New Year are featured in a major exhibition.
The different manner of celebrations include posting pictures for auspicious beginnings on the wall, paying respects to an assortment of gods who oversaw the kitchen, fortune and wealth, as well as ensuring home safety. They are all displayed at the exhibition at the Shanghai History Museum.
Opening on Jan 20, it features 82 objects from the museum's collection, and will run through Feb 26.
"A lot of the social customs and practices have disappeared, but Spring Festival has always been an occasion of great importance for Chinese families," says Qiu Zhengping, deputy director of the Shanghai History Museum.
By hosting the exhibition, Qiu says, "we would like to remind people about the ceremonial aspects of the festival and get a glimpse of life in the past".
The celebrations go on for a whole month, starting from a thorough cleaning of the house, says Sun Xiaozhi, a researcher with the museum.
"In the time of material scarcity, people would slaughter pigs or sheep in preparation for the Spring Festival banquet, and make dishes with sausages, salted fish and chicken," Sun says, adding that children were greatly attracted to the delicacies and gift money from elders.
Among the exhibits are some ancient Chinese coins tied together through holes at the center, to form shapes that look like tigers, dragons, swords or gold ingots. Known as yasuiqian, the coins were given as gifts to children in the hope of healthy growth and to suppress "demons".
A former military training ground near the old City God Temple, known as Xiaojiaochang, has been a place for printmaking woodcut New Year pictures in Shanghai since the mid-1800s, when craftsmen from Taohuawu in Suzhou, Jiangsu province, came to Shanghai to seek shelter during the Taiping Rebellion, the largest peasant uprising in Chinese history.
Many craftsmen opened businesses in the Xiaojiaochang area, where a street of no more than 200 meters used to have dozens of wood print studios.