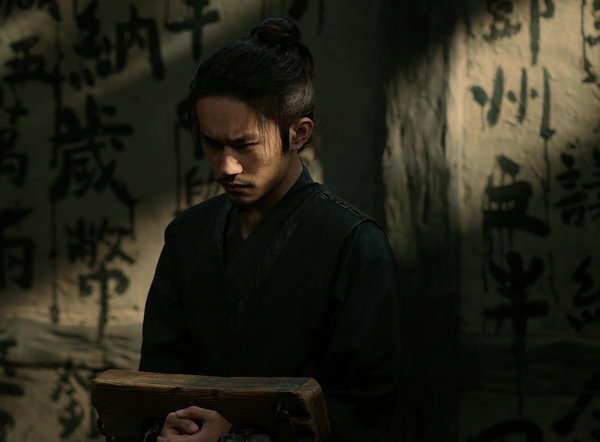 ZHENGZHOU -- During this year's Spring Festival holiday, the county of Tangyin in Henan province welcomed an increased number of tourists. Many of them came to pay tribute to Yue Fei, a Song Dynasty (960-1279) national hero.
The tourist surge was attributed to the success of Full River Red, a domestic blockbuster debuted during the holiday. As of Jan 27, the last day of the holiday, the film had generated a whopping total box office revenue of about 2.6 billion yuan ($385 million), ranking first in the holiday box office chart.
The historical drama, eponymous with a well-known lyrical poem by Yue Fei, was directed by acclaimed Chinese director Zhang Yimou. Its plot revolves around a series of suspenseful events surrounding Yue's death.
Many viewers were moved to tears by the ending of the movie, which featured thousands of soldiers reciting the lyrical poem in concert.
The film's popularity sparked public admiration for Yue, who gallantly fought battles against the Jin Dynasty and was celebrated for his loyalty and courage. "On Jan 27 alone, we received over 10,000 tourists," said Xu Suting, curator of the Yue Fei memorial hall in Tangyin county.
To cater for the tourists' enthusiasm, the tourist site on Jan 26 announced that anyone who can recite the aforementioned lyrical poem on site can visit for free. On that very day, 437 visitors were granted free entrance after successfully reciting the lyrical poem.
"I wanted to visit the Temple of Yue Fei after watching the film," said a tourist surnamed Han. He said that by reciting the lyrical poem with his children and appreciating the steles engraved with the poem, he profoundly felt Yue's patriotic spirit.
Public interest in Yue's story also extended to other characters involved. At a tourist site in Zhoukou, Henan province, tourists waited in line to smack the bronze statue of a kneeling Qin Hui, a Song Dynasty official who was despised by Chinese people for plotting Yue's death by fabricating charges.
A video posted online showed tourists slapping the statue. One of them even went as far as taking off a shoe and whipping the statue with it.
According to employees of the tourist site, "smacking Qin Hui" is a traditional local activity that has the connotation of chasing away bad luck. With Full River Red hitting the big screen this year, there are considerably more people participating in this activity.
One of the film's intentions is to illustrate and highlight Yue Fei's spirit. In an article posted on China's leading film rating platform Douban, Chen Yu, the film's screenwriter, wrote that Yue's lyrical poem contains a kind of culture or emotion shared by all Chinese people.
"By making this film, we try to explore why Chinese people are so familiar with Yue's lyrical poem and admire his character," wrote Chen.