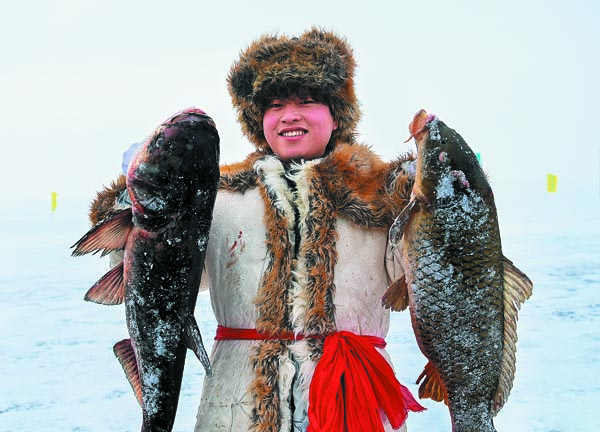 URUMQI — As the night closed in, Damingul Kohayip's kitchen became increasingly busy, filled with the sound of chopping, a blazing fire, and boiling water. Outside the kitchen are several traditional Kazakh-style tents where diners eagerly await the delicacies to be served.
The signature dish was a broth made with the two local specialties — freshwater fish from the nearby Ulungur Lake and lamb raised by local herdsmen, says Damingul Kohayip, who runs an agritainment business in Akwutkel village of Fuhai county, Northwest China's Xinjiang Uygur autonomous region.
Home to the largest natural fishery base in northern Xinjiang, Fuhai in Altay prefecture turned its tradition of winter fishing into a tourism festival featuring ice fishing performances, ice-and-snow sports, and other activities in 2005.
The initiative has brought vitality to the local tourism industry, especially in winter, a traditional tourism off-season. An increasing number of local farmers and herders have turned to careers in the ice-and-snow tourism sector.
Fuhai now has more than 120 farm stays, providing more than 2,000 job opportunities, says Adelbek Abaydulla, head of the county government, adding that the county is pushing for the integrated development of its animal husbandry, farming, and ice-and-snow tourism industries.
Six years into the start of her business, Damingul Kohayip is embracing yet another busy winter. "Since the beginning of December, we have been receiving a greater number of food orders. These days, we even got a bit short-handed," says the 52-year-old woman.