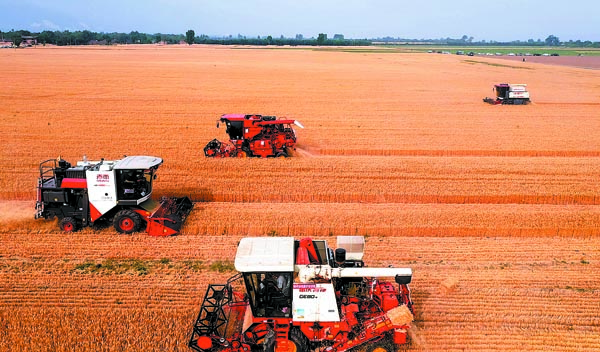 With a steadily growing rural economy and an improving environment, Shanxi province's countryside has become a better place to live in.
The farming sector is the mainstay of Shanxi's rural economy. It maintained an increasing rate on a par with or higher than the national average in recent years.
Statistics from the Shanxi Department of Agriculture and Rural Affairs show that the province's grain output totaled 14.64 million metric tons in 2022, up 430,500 tons from 2021. The per-hectare output reached 4.64 tons, about 119 kilograms more than the figure in 2021. During the first three quarters of 2022, the added value of Shanxi's agricultural industry -which includes farming, forestry, animal husbandry and aquaculture -amounted to 92.47 billion yuan ($13.65 billion).
The per capita disposable income of Shanxi's rural residents reached 11,471 yuan during the same period, growing 6.7 percent year-on-year. The increase was 0.3 percentage point higher than the national average.
Agricultural modernization driven by new technologies and innovations is one of the major contributors to the growth of Shanxi's rural economy.
Chen Yijun is the operator of a farming company based in the village of Danao, Shouyang county.
He was happy that he had a bumper harvest at his corn farm of 360 hectares. "The per-hectare corn output reached a record 17.28 tons," he said."And per-hectare income was 48,375 yuan, which can translate to 17.42 million yuan for the entire farm."
Backing the growth of his operations are researchers from the Shanxi Agricultural University and other research institutions throughout the country. They are helping him cultivate new crop varieties with higher yields and higher quality, as well as developing new farming techniques.
Throughout Shanxi, the agricultural industry is being supported by research facilities and scientists.
In 2022, the Shanxi Department of Agriculture and Rural Affairs launched a high-quality seedlings cultivation program. As a part of the program, more than 100 researchers from Shanxi established a seedling cultivation base in the southernmost Chinese province of Hainan. There they developed varieties of higher quality and bigger profit potential.
Along with the growth in agriculture is the fundamental transformation of rural environment. One prime example showing the improvement in rural environment and living conditions is the promotion of flush toilets.
You Yinghua, a resident in the village of Dongzhuang in the county of Yushe, said she is happy to have a new flush toilet in her home. "We used to use old-style public toilets in the village, which were always dirty and smelly," You said. "Now with a flush toilet in my home, I just feel life is as comfortable as that of city dwellers."
The promotion of modern toilets is part of a rural infrastructure project launched by the Shanxi government in recent years. The renovation and construction of such toilets involve investments from both governments and residents.
Wang Xiujuan contributed to this story.