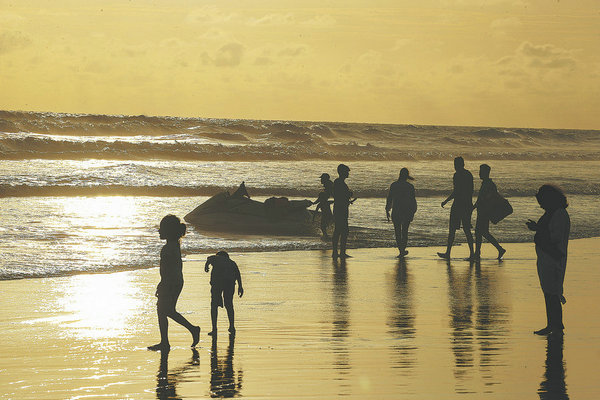 Bangladesh is developing a master plan to promote its tourism industry and tap its rich resources, with China providing valuable support.
There has been a lack of planning in the industry, and the country needs to develop the infrastructure to attract foreign tourists following the pandemic, said Abdus Salam Aref, secretary-general of the Association of Travel Agents of Bangladesh.
The government is developing specialized tourism zones, he said,and a master plan now being formulated is expected to be approved by June or July.
Bangladesh lifted all COVID-19-related restrictions on foreign visitors in September, the issuance of visas to foreigners having been suspended since 2020, when the pandemic broke out.
The Bangladesh Tourism Board is acting on a tourism recovery plan under the guidance and supervision of the Ministry of Civil Aviation and Tourism, said Mahbub Ali, state minister for civil aviation and tourism, in September.
The aim is to solve problems in tourism produced by the pandemic and make the industry competitive,the newspaper The Daily Star reported.
As a result of the pandemic, the hospitality and tourism sector's gross value-added contribution to the economy has posted a loss of about $5.76 million, according to a survey by the Bangladesh Institute of Development Studies.
"It was a tough year for the Bangladesh tourism sector in 2020 and 2021," Aref said.
Though domestic tourism demand is high, Aref said, Bangladesh finds it difficult to attract foreign tourists because of a lack of proper infrastructure and tourism products.
"China is very strong in every aspect, so in the field of tourism, if China is coming to support us, we think it will be a very big opportunity to develop our tourism sector."
Aref said he expects infrastructure projects such as the Padma Bridge and the Padma Bridge Rail Link Project, both undertaken by Chinese companies, will give a fillip to tourism because the travel time between Dhaka, the capital,and southern Bangladesh has been cut.
The Padma Bridge, 9.8 kilometers long, the largest bridge in the country, opened to traffic seven months ago, boats having previously been the only transport that bridged the two sides of the river.
Domestic tourism accounts for about 96 percent of Bangladesh's tourism, said Shoaib Akhtar, an industry expert, and China is the international market with the most potential for bringing visitors to Bangladesh.
"I strongly recommend that Bangladesh should develop a distinct strategy to attract tourists from China," said Akhtar, a systems analyst at AgResearch, a research organization in New Zealand.
Akhtar said he hopes to see more concrete plans regarding the implementation of a program of collaboration the two countries signed last year to promote cultural and tourism exchange.
During then Chinese foreign minister Wang Yi's visit to Bangladesh in August, the two countries signed the 2023-27 Culture and Tourism Exchange Programme, which will provide a guiding framework for collaboration in the industry.
Bangladesh attracted about 323,000 tourists in 2019, more than 80 percent of them from India.
However, Akhtar said most international visitors, including those from China, go to Bangladesh mainly on business or to see relatives.
The Bangladesh government needs to improve tourism infrastructure such as accommodation,transportation and connectivity,while diversifying tourism offerings such as beach or other activities,Akhtar said.
For example, though Bangladesh boasts what is said to be the world's longest unbroken beach, Cox's Bazar, it has been unable to host international tourists as other countries do because of a lack of beach facilities and services and religious traditions.
Aref of the Association of Travel Agents of Bangladesh said he sees huge potential to develop tourism,with a possible 10-15 times' return on investment within five to 10 years.
"Tourists are prone to traveling more now than before," said Sharif Farzana Bushra, a spokeswoman for GoZayaan, an online travel agency in Bangladesh. "Travelers are more prone to visit destinations outside peak seasons, which was unusual beforehand."
Visibility and safety will be the things foreign travelers care about most when visiting Bangladesh,Bushra said. It is difficult for them to plan holidays in the country without having a proper idea about services and accommodation available.
With China being Bangladesh's top trading partner, Bushra said,many business people visit it frequently, and many Chinese travelers have developed a keen interest in the country.
"As pandemic restrictions are easing across China, we believe we will be able to welcome more Chinese tourists to Bangladesh and strengthen the bond between our two countries," she said.