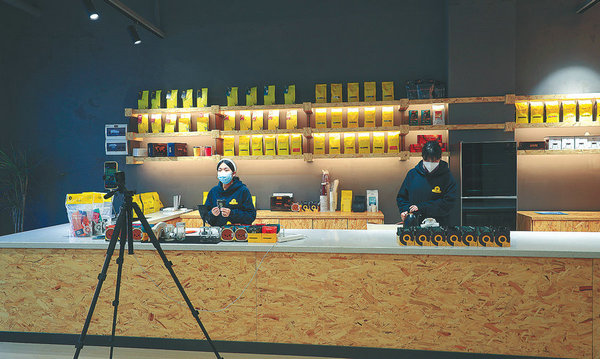 The best quality coffee beans are grown in the world's "Coffee Belt", which refers to the equatorial regions of the Earth between 25 degrees north of the Equator and 30 degrees south.
But according to Wang Xianwen, director of the Baoshan Coffee Industry Research Institute in Southwest China's Yunnan province, while more than 70 countries in the belt can grow coffee beans, less than 20 can produce high-quality Arabica coffee beans.
Among these beans are those from Baoshan.
"Grown at the top of the belt, in a picturesque environment that gives them their unique flavor, are Baoshan small grain coffee beans," said Wang.
The coffee industry in Baoshan has a history of 70 years, during which its plantation area has increased nearly 12 times. In the 1950s, it produced less than 1,000 metric tons of coffee beans a year. Today, it is nearly 20 times more.
In 2021, the total coffee bean plantation area in Yunnan had grown to 93,333 hectares, yielding over 100,000 tons. Baoshan accounted for about one-fifth of that. The output value of the whole industrial chain in the city reached 3.73 billion yuan($556 million) in 2021.
To further boost the development of coffee industry, the Baoshan government has implemented a series of policies to make it into a high-quality small grain coffee bean production base and a well-known coffee-themed industrial park.
In 2025, it is expected that the city's processing capacity for fresh beans will reach over 100,000 tons, with 60 percent of them classified as high-quality beans. The output value of the coffee industry by then, according to the local government, will surpass 10 billion yuan.
Among the policies introduced by the government, one was to establish a coffee-themed town in Baoshan's Longyang district. As a result, a coffee research institute, a coffee-themed training school and a coffee museum will welcome visitors soon.
Yang Dongyan, who works for the Investment Promotion Bureau of Baoshan's industry and trade park, said that the town will combine coffee-themed culture with tourism.
"The coffee town will be established on the site of a 14.7-hectare ancient town," she said. "People will be able to experience ancient architecture while visiting a coffee livestreaming base,tasting coffee-flavored food and going to coffee bars."
According to Yang, the coffee museum is now being decorated and the construction of 25 livestreaming studios has been completed. Construction of the coffee-themed training school is due to finish in late January.
In the coffee bars, people will be either able to read books,appreciate rare stones and sample coffees of different flavors.Some flavors, such as dendrobium flower coffee, might only be tasted at the coffee bars in the town.
"To attract more tourists and create a better business atmosphere, we plan to hold coffee-themed cultural festivals, invite bands and organize various kinds of performances, including roller skating competitions, displays of traditional costumes and street dancing."
Huang Wei, president of Jinglan Coffee, said that he has strong confidence in the town and the local coffee industry.
"The sales of our coffee products increased from about 60 million yuan in 2019 to 180 million yuan in 2022," he said. "It has been increasing in recent years."
Born in 1978, Huang entered the coffee industry in 2013.Noticing that more people now drink coffee in their leisure time, he believes that there is great potential for his company.
Wang from the Baoshan Coffee Industry Research Institute agrees, saying that the processing capacity of coffee beans in Yunnan, or even in China, is limited.
"The quality and the transaction prices of coffee beans are subject to foreign companies and the international market,which have seriously influenced the upgrading of the local coffee industry."
"Most consumers cannot buy raw beans for roasting," said Huang. "We have cooperated with the provincial academy of agricultural sciences and Yunnan University to develop a variety of products to meet the demands of consumers and provide better coffee for them."
According to Zuo Ronggui, who works for Yunnan's Agriculture and Rural Affairs Department, China's annual consumption of coffee has reached 250,000 tons, with an average growth rate of more than 15 percent every year, which is much higher than the world's average of 2.2 percent.
But in China every person consumes just nine cups of coffee on average every year, he said, which is much lower than in the United States, Japan, and European countries where people consume more than 200 cups per year.
"The market potential is enormous," said Zuo.
Yang Jun, Baoshan Party secretary, said that the city's Longyang district will finish constructing a 33,333-hectare "Baoshan small grain coffee belt" by 2025, which will also help with the rural development of 320 villages in five counties.
By then, the city expects to have dozens of leading coffee enterprises, and to have 200 professionals and more than 1,000 skilled workers in the coffee industry, and its trade of high-quality coffee to have reached 10 billion yuan.