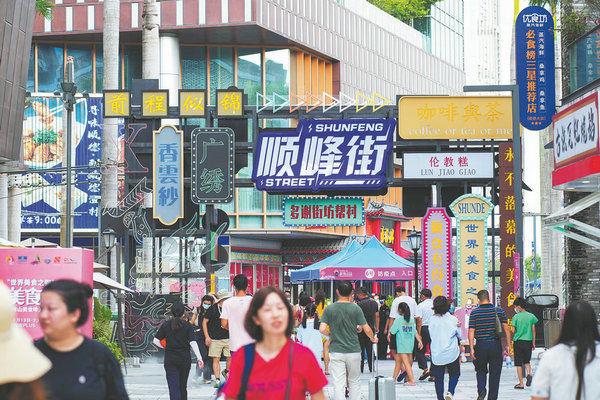 For decades after the start of China's reform and opening-up, the Shunde district of Foshan, Guangdong province, has been regarded as one of the top prosperous townships in the country, thanks to its robust development of industries.
One of the so-called Four Tigers of the economy in Guangdong in the late 1980s, Shunde has developed two industrial clusters of household electrical machinery and equipment, nurturing a batch of globally influential enterprises such as home appliances giant Midea and real estate group Country Garden.
Shunde's shining image is not only represented by its robust real economy but by its rich historical and cultural essence which includes architecture, food and art.
A special town with local cultural characteristics, namely Taste Shunde,or Xunwei Shunde in Chinese, which focuses on integrated development of industry, urban cultivation and culture, may tell rich stories, if not all, of its past and current development.
The town, created in 2017 by the local government to improve its overall urban development competitiveness, has a planned land area of 4.7 square kilometers, with three cultural, business and tourism functional areas and a residential living area.
With the OCT Happy Harbor Plus,the old Sugang village and the Guipanhu Wetland Park as core areas, Taste Shunde was listed as the key project for a food cluster in the district.
More than 120 famous restaurants have featured the cuisine of Shunde over the past few years.
Sources with local government indicate that the core gathering area of the town attracts about 23 million tourists annually, with revenues of about 5.1 billion yuan ($758.1 million)and annual tax revenue reaching about 300 million yuan.
Construction of the town has been progressing in an orderly manner,with actual used investment of about 4.64 billion yuan as of the end of 2022,accounting for 84.06 percent of its total investment, according to the local government.
A comprehensive renovation and upgrading project in the old Sugang village, which features typical Lingnan-style architecture and is planned to invest 180 million yuan in three years, has been accelerated.
Inside the OCT Happy Harbor Plus, a Cantonese food museum, the first of its kind across the country, and an international food culture exchange center have been built, where an annual food cultural week and a competition of Cantonese chefs was held.
Since the opening of its first phase in September 2019, OCT Happy Harbor Plus has received nearly 28 million visitors, with total operating revenues reaching nearly 1.5 billion yuan, official data showed.
To boost demand for night business consumption, nearly 1,500 high-quality hotel rooms are offered to visitors,with more than 80 famous restaurants featuring local food in the town's core area.
Thanks to its showcasing of rich local history and culture, the town and two others in Foshan, were selected in the list of the top 50 towns with Chinese characteristics in 2021.
The Development Index Report of Small Towns with Chinese Characteristics, jointly complied by domestic authorities and top experts, reflects the current development situation and trends of small towns with typical Chinese characteristics.
"Promotion of cultural and tourism brands would help greatly in promoting the economic development of Shunde," said Liang Youying, a member of the local committee of the Chinese People's Political Consultative Conference.
A new subway line was opened in late December, passing through most parts of Shunde, with passenger flows being highly concentrated at the station of OCT Happy Harbor Plus.
"More cultural and creative products, along with those featuring intangible cultural heritage, should be created along the subway line. They are very helpful in promoting local tourism and economic development,"Liang said.
Daliang subdistrict, where Taste Shunde is located, has launched a shopping and food event at OCT Happy Harbor Plus, aiming to boost consumption during the Chinese Lunar New Year holiday, which falls on Jan 22.