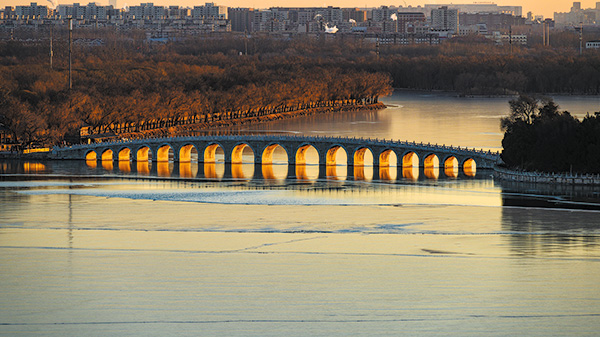 On Dec 21, 2016, the gate of Yang's Family Temple in Yangjia village, Sanmen county, Taizhou city, Zhejiang province, was decorated with flags and lanterns, and couplets were pasted up. Red candles lit up the smiling faces of the villagers. For the locals, the celebration of dongzhi, or Winter Solstice, the 22nd solar term on Chinese traditional calendar, is no less important than Spring Festival.
The occasion came after the practice of Twenty-Four Solar Terms was officially included on the UNESCO world intangible cultural heritage list on Nov 30 that year, and a variety of traditional folk activities to celebrate Winter Solstice were held across the country.
Since the Ming Dynasty (1368-1644), the descendants of the Yang family have used the Winter Solstice to pay tribute to their ancestors, and they gradually formed a set of ceremonies. In order to celebrate the success at UNESCO, Yang's family temple underwent renovation before the ceremony.
At 4:40 am, the winter sacrifice ceremony began. The clansmen stood up, lit firecrackers and played music. The chief worshipper performed nine kowtows, three offerings, and read blessings. "Winter Solstice Festival is not just a formality, there is a lot of attention here. The more precise the movements, the more respectful we are," the inheritor of the festival, 87-year-old Yang Yaxing, was quoted as saying by China News Service.
"It is a ceremony of gratitude to the ancestors. Through offering sacrifices to winter, it conveys gratitude to nature, highlights the moral concepts of advocating ancestral virtues, respecting the old and loving the elderly, and realizes family harmony and cohesion."