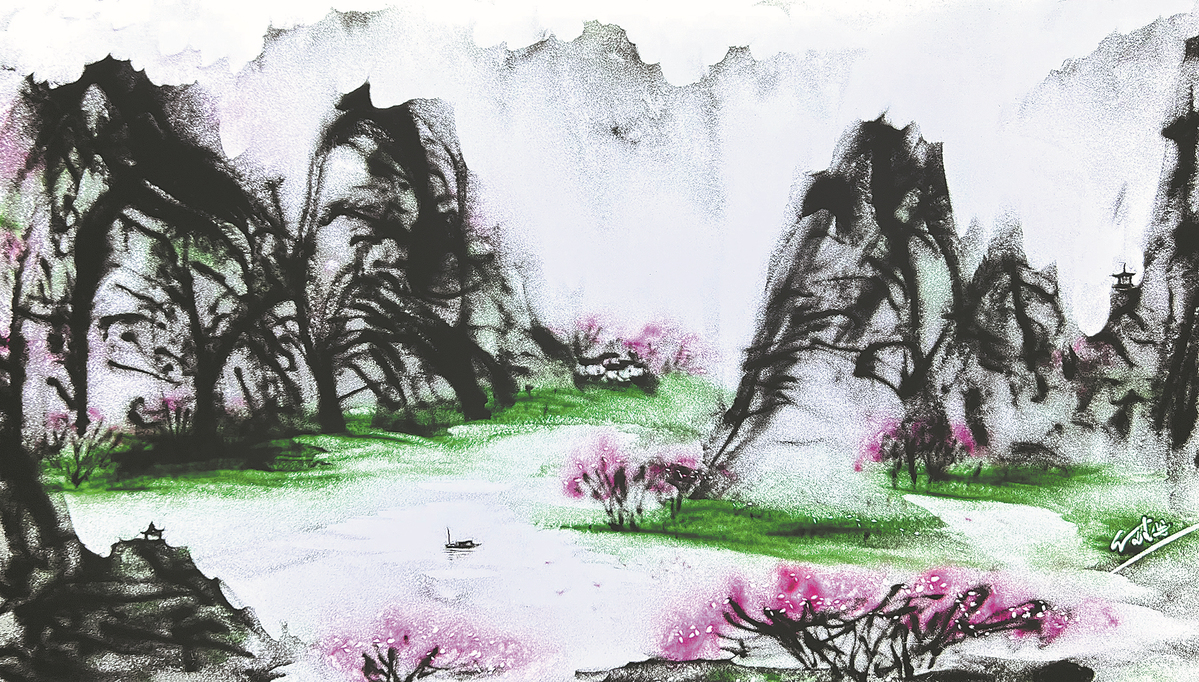 As the soothing music wafted in the air, He Sudan graciously grabbed a handful of fine sand and sprinkled it onto a drawing board.
In the wake of her moving fingers, the random sand quickly turned into flying snowflakes, dried tree branches and a reading girl behind a window of a farmhouse with white walls and gray tiles.
It took only dozens of seconds for her to magically reveal a stunning rustic picture.
"It was to depict the xiaoxue (Minor Snow) solar term," says the 34-year-old who has settled in South China's Hainan province.
He's recent work on xiaoxue has garnered more than 1 million views on Xinhua News Agency and many people online commented that they had a more vivid understanding of the 20th solar term, which fell on Nov 22 this year.
Since the beginning of this year, she has created sand paintings revolving around the theme of the 24 solar terms on the Chinese calendar.
Her series of works have been translated into different languages, such as English and French, and have altogether received more than 100 million views.
"I had wanted to do the solar terms series for a long time, because the related rituals have preserved the romance that belongs to Chinese people," the sand painting artist says, adding that those terms are ancient wisdom that has been obtained through constant exploration over the long course of history.
"I want to use sand painting to show the passage of time and our farming civilization," He says.
It usually takes her a week to create a single piece in the series, including filming and editing.
"First I will look up elements of the upcoming solar term and find the best of its characteristics," He says.
"Our country is vast, and expressions of the solar terms vary by region, so I have to extract the symbolic elements that everyone can identify with."