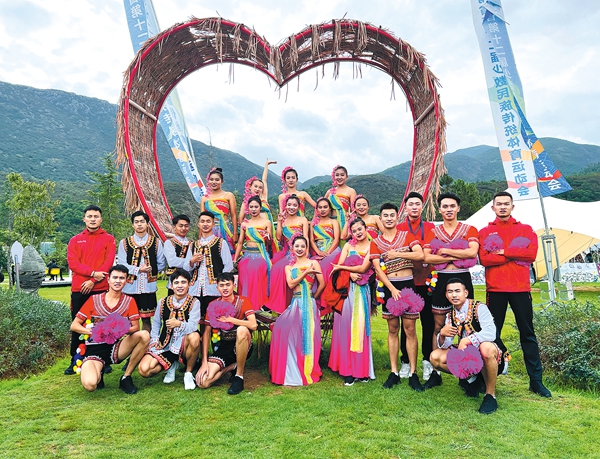 The popularity of cheerleading in Pu'er can be attributed to a young man's passion, Xing Wen reports.
A scene of gorgeous women in tight-fitting clothes boisterously performing stunts, jumps and dance moves at sporting events would first come to mind when thinking of cheerleading.
An all-male cheerleading squad from Pu'er University, Southwest China's Yunnan province, is set to change the stereotypical image of cheerleaders.
The bouncy, suntanned young men wow the audience with their mechanically precise choreography, energetic tumbling and sophisticated routines. The competitive cheerleaders have their own platform as athletes rather than simply cheering for others in sports.
Since its initiation in 2017, the squad has won a number of medals at competitions of varied scales, including the National Cheerleading Championships, Asia-Pacific Cup Cheerleading Open and the International Cheer Union World Cheerleading Championships.
Such feats have sparked an explosion of interest in cheerleading among younger students across Pu'er city. It has become a common practice in primary and middle schools there as an important exercise for students during recess.
The popularity of cheerleading in Pu'er can be attributed to a young man's passion in promoting it: Li Dong, 31, a teacher at Pu'er University, ran the squad from scratch and developed a reputation through organizing intensive trainings day after day. He used to learn gymnastics when he was young.
After entering Yunnan Arts University, he got to know about competitive cheerleading and founded a club. He became obsessed with cheerleading — it has many forms and allows participants to be innovative in designing routines.
"I also like to collaborate with others," Li says.
Over time, he wanted to become a teacher who could run a cheerleading squad at college level.
After completing his postgraduate program from Yunnan Normal University, as he had wished, Li became a teacher at Pu'er University in his hometown. He began to select students from the university's school of physical education to be cheerleaders in 2017.
"Basically, our squad members don't have the athleticism as outstanding as those from the country's top sport universities, so we have to train harder," Li says.
He also found that a squad should form its own unique style to catch the eyes of judges at different competitions. Then he decided to form an all-male squad that could show moves that required more physical strength and endurance. He also integrated kung fu and other elements of traditional Chinese culture into the squad's routines.
The stories of such historical figures as the Ming Dynasty (1368-1644) scholar and calligrapher Tang Bohu and the legendary martial artist Huang Feihong would also be told through their performances.
Yunnan is inhabited by more than 20 ethnic groups. To enlarge the population that practices cheerleading in the province, Li has sought to design routines that involve cultural elements of different ethnic groups.
"For instance, when we planned to promote cheerleading in schools in Mojiang Hani autonomous county, Pu'er, we first worked out a routine based on the traditional style of singing and dancing of the Hani people. That would be better accepted by people there," he explains.
What motivated Li to throw himself into cultivating talent for competitive cheerleading was mainly his eagerness to help more students open new vistas in life.
Many students in the university are from remote mountainous areas in the province. They have to help with farm work at home during holidays and lack the chance to see the outside world, Li says.
"There was one time when I led the squad to compete in Shanghai. On arriving at the Pudong International Airport, a student turned to me and blurted a remark that made a strong impression on me," Li recalls.
"He said that if he weren't in Shanghai with me, the most possible reason for him to visit the metropolis would be as a migrant worker seeking work opportunities," Li adds.
"I hope their participation in the sport (cheerleading) brings them more opportunities to see with their own eyes different life possibilities in the outside world and empowers them to tap into their potential," Li says.
The opportunity has inspired Zhang Haomeng, a 22-year-old member of the university's cheerleading squad, to pursue bigger goals. He used to be shy and didn't talk much.
In 2019, as the squad got entry to the year's China (Nanjing) Cheerleading Open, for the first time Zhang traveled to Nanjing, Jiangsu province where he met more than 2,000 domestic and international cheerleaders and watched their performances in various styles. He felt an upsurge of emotions when the squad was announced winner in the event's Open Lg Team Cheer Pom.