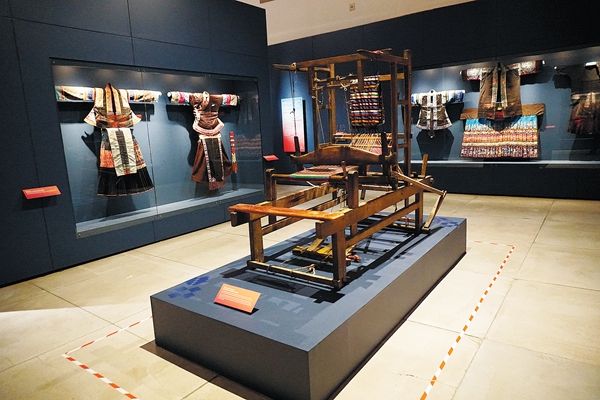 Museum founder Chen Yueqiao is on a mission to protect, inherit and popularize costume culture, report Li Yingxue and Yang Jun in Guiyang.
The top is a collarless double-breasted shirt, and it connects to a ribbon skirt with the bottom decorated by white feathers. It is a Miao collarless double-breasted butterfly shirt, and is displayed at the Multicolor Art and National Costume Museum in Guiyang, Guizhou province.
With an area of 1,600 square meters, the museum collects representative costumes, accessories and items from the daily life of 17 ethnic groups living in Guizhou, including Miao, Dong and Sui.
The museum boasts an abundant collection and wide influence. It was listed among the "top 10 private museums in Guizhou" by the provincial government in 2021.
"I have been collecting ethnic clothes for over a decade. By doing this, I want to present the DNA of the ethnic groups and a feeling of nostalgia," says Chen Yueqiao, founder of the museum.
Talking about the origin of the museum, the 42-year-old says that traditional villages inherit the wisdom of life and the production and crystallization of culture and arts with ethnic characteristics. With a passion for them, she has visited almost all the ethnic villages in Guizhou.
Chen, from the Zhuang ethnic group, has been fond of embroidery since childhood. She used to be impressed by her neighbors' skillful hands that turned colorful threads into butterflies.
During college, Chen worked as a translator for foreigners and brought them into the mountains to learn about Guizhou's ethnic culture. She saw how much they were impressed by the Miao embroidery, buying piece after piece.
"Since then, I've been determined to be a protector and inheritor of Guizhou's ethnic and costume culture," Chen says.
She then started traveling to ethnic villages in Guizhou, visiting inheritors of handicrafts and collecting a large number of traditional costumes, embroidered articles and daily-use items.
She has visited some villages more than once. When she encounters poor families, villagers with illness, embroiderers coping with the heavy burdens of life and children who can't afford tuition, she will give them hundreds, sometimes thousands, of yuan to help.
She gradually became a popular collector in Guizhou and as her collection grew, she bought a house to store it. "Previously, my collection was hidden in a warehouse, with no place or platform to display them."
In 2015, the Guanshanhu district government in Guiyang invited Chen to open a museum, showcasing her collection to raise more people's awareness of the need to cherish, protect and develop the ethnic costume culture in Guizhou.
After six months of preparation, the Multicolor Art and National Costume Museum was opened to the public for free on April 12, 2016.It provides an optimized space for exhibitions, academic research, inheritance of intangible cultural heritage and cultural exchanges.
The museum has 1,000 costume sets and more than 20,000 fine embroidery pieces, over 80 percent of which are of a cultural relic level.
Among them, almost all types of the Miao costumes are included, showcasing a variety of embroidery patterns and the dressing habits of the Miao people.
There are also thousands of antiques in collection, including containers, bamboo objects, and stone and wood carvings.