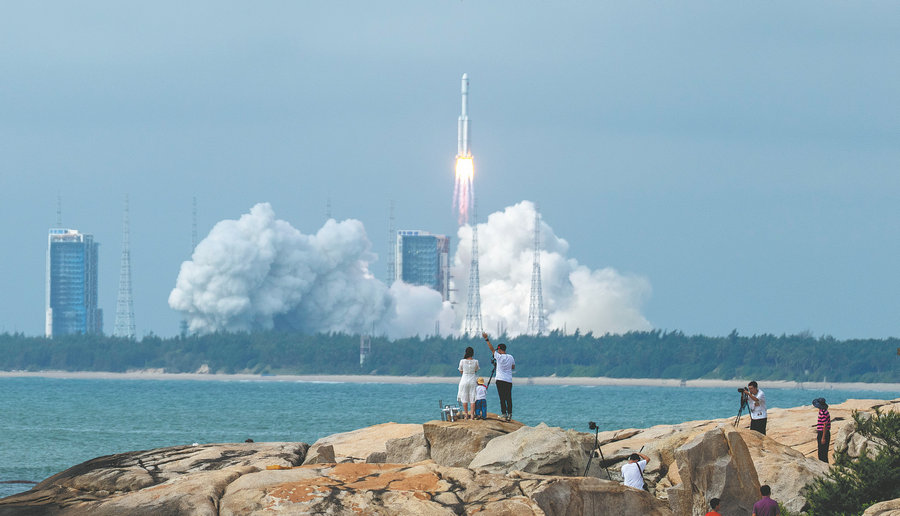 When the Long March 7 Y6 rocket, carrying the Tianzhou 5 cargo spacecraft, took off from the Wenchang Space Launch Center in Longlou town, South China's Hainan province, earlier this month, the striking moment was captured by rocket enthusiasts.
Photographer Luo Hongyang's son, who is about 3 years old, was probably the youngest among them. It is the sixth time that the boy has seen a rocket soaring into the sky.
Getting up at 5 am, about five hours before launch, Luo's family left the hotel and drove half an hour to Qishui Bay, about 30 kilometers from the launch site, to set up their cameras.
To make sure of the perfect shot, the young father from the Guangxi Zhuang autonomous region positioned six cameras there.
According to Luo, every trip for a rocket launch not only documents the country's space program's development, but also records his son's growing up. The first time his son watched a rocket launch was on Dec 22, 2020, when the Long March 8 rocket made its maiden flight from the Wenchang site.
First used in June 2016, the Wenchang Space Launch Center is China's newest and only coastal launch facility. It is central to the nation's space exploration programs and manned spaceflights because it's the only such facility in China capable of launching the Long March 5 heavy-lift carrier rocket, an essential part of these programs.
Photographer Wang Yubo, who has been shooting rocket launches for six years, has witnessed every mission at the center and also how local people have benefited.
According to the township government, the average per capita disposable income of its residents reached 19,171 yuan ($2,680) last year, about three times that of 2009. On July 24, more than 500,000 tourists visited Longlou, a farming community with a population of about 26,000 in Wenchang city, to see the launch of the Wentian space lab module.