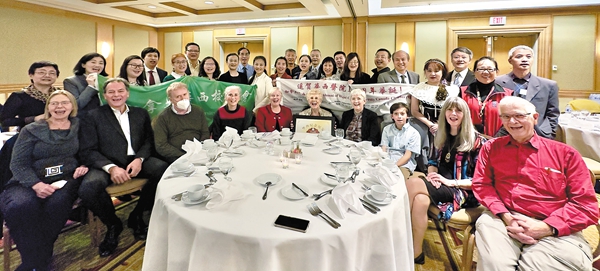 Relatives celebrate and build on incredible contribution of Canadian missionaries during a time of turmoil, Rena Li reports in Toronto.
These are love stories between Canadian missionary families and their Chinese roots spanning three centuries that should be remembered forever.
Making a difference
For the first time at an in-person event after two years of the COVID-19 pandemic, Marion Walmsley Walker, a 90-year-old mother and grandmother, brought three more descendants of the Kilborn family to celebrate the 130th anniversary of West China (Huaxi) Hospital. This was initially a small one-man clinic that Walker's grandfather Omar Leslie Kilborn (1867-1920) helped to set up in Chengdu, Sichuan province, and has become a world-renowned hospital.
The Kilborn family's relationship with China began in 1891, when Omar Kilborn joined the Canadian medical missionary work established in Sichuan. In the following 72 years, until 1963, three generations of the family got involved in the development of medical and educational undertakings in China.
Walker's mother Constance Kilborn was born in Sichuan and wished to follow in her father Omar Kilborn's footsteps. After she married Walker's father Lewis Calvin Walmsley in 1920, the couple traveled thousands of miles to China in 1921 to try to make a difference. Walmsley became the principal of the Canadian School for the children of the missionaries working in the West China Hospital in Chengdu.
Walker was born on the hospital campus and attended the school. Her father Walmsley had a good knowledge of Chinese culture. He studied classic Chinese literature and translated the poems of Tang Dynasty (618-907) poet Wang Wei. His interest in Chinese culture led him to take a position at the University of Toronto as a professor of East Asian Studies after the family returned to Canada.
"My father truly loved the great country of China and he spent his life developing that love in his students," Walker told China Daily. "He taught us to love and respect the land where many of us were born. He showed us the fabulous culture and poetry and beauty of China and we have never forgotten."
The descendants of the Kilborn family wish to have a legacy museum built in Canada to honor Omar Kilborn, Lewis Walmsley and all the other missionaries and their children in China.
After preparing for five years, Walker, along with Sun Jing, the president of West China University of Medical Sciences Alumni Association, launched a special Canadian School Legacy Project on Oct 26 in Toronto.
"An important purpose of this legacy is to help promote understanding and friendship between Canada and China," Walker said in a speech at the project launch event. "To accomplish these goals, we want to share knowledge of the Canadian School in China that sent almost 500 of its students to Canada, the United States and around the world as our informal ambassadors, and how the principal of the Canadian School in West China helped make this happen."
In addition to the fundraising from Canadian School children and the alumni association, Walker said she was so glad to hear that the West China Hospital of Sichuan University had decided to support the Legacy Project. The West China Hospital also agreed to support a second memorial for the Kilborn family by providing an agent to help search for a site in Picton Library in Prince Edward County.
"The Legacy in Picton will comprise a historical view of a school of Canadian students situated in Sichuan, China. It is a place to learn, allowing Canadians to get to know and understand the work of missionaries in China, a different country they appreciated and loved," Walker said.
And the fourth and fifth generations of the missionary families have taken up the baton of China-Canada friendship, continuing their family's love of China, according to Xiang Suzhen, a former official at Sichuan Foreign Affairs Office and now a volunteer of the Canadian School project.
The Kilborn family is just part of around 500 Canadian missionaries that went to western China from the late 19th century over the course of 60 years. They traveled up the Yangtze River and, with a focus on medical success, they built hospitals. West China Hospital is just one of them.