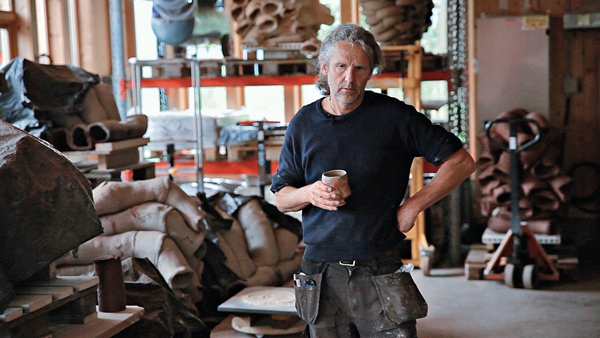 Norwegian artist brings stacks of creative energy to Beijing with an exhibition of his unique clay sculptures at the Central Academy of Fine Arts, Lin Qi reports.
A short film shot in 2013 shows Norwegian ceramic artist Torbjorn Kvasbo working in his studio in Venabygd, a hilly region in the village of Ringebu, nearly 200 kilometers north of the capital, Oslo. He pulls clay tubes out of molding machines, piles them together, and readjusts the formations or extends their openings. From time to time, he groans as he exerts all his strength to shape the tubes to his satisfaction. Sometimes he utters a sound of discontent when the tubes fall apart after drying.
The works are fired in kilns situated outside the studio, and Kvasbo and his crew work in shifts over a period of days. He says in the film that he enjoys the firings, which come with surprises — some works are completed to perfection, while others are not done well — and the process produces "new knowledge (for him) to take the next step forward".
The film is being screened at Kvasbo's debut exhibition in China at the Art Museum of Central Academy of Fine Arts in Beijing. Titled Bundles of Energy, the show is scheduled to run until Friday. On display are 23 of the 69-year-old artist's tube sculptures, reviewing his experimental endeavors in ceramic art over the past decade. It is hoped that the film will help engage the viewers with the environment in which Kvasbo works and lives, as the artist isn't able to travel to China for the exhibition's opening and meet with local art lovers.