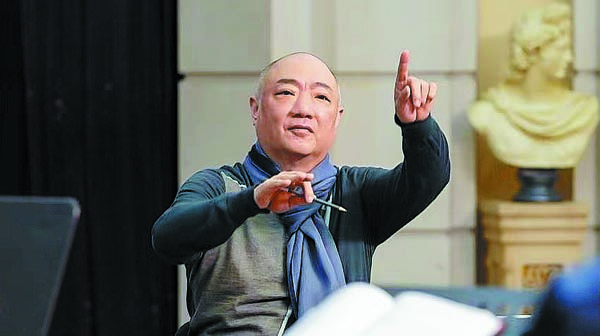 The upcoming opera Tosca marks one of the first productions of its kind in China, being the joint effort of three separate institutions in Beijing, Shanghai and Xi'an.
Starring He Hui in the titular role, and with Xu Zhong as the conductor, the production will premiere at the National Centre for Performing Arts in Beijing on Tuesday. Six performances will take place in Beijing, four at Shanghai Grand Theatre from Dec 30 to Jan 2, and two at Shaanxi Opera House in Xi'an, capital of Shaanxi province, on Jan 13 and 15.
The joint production of Tosca marks the beginning of a new business model for opera performance in China. With the joint investment from three institutions, "we are able to bring together some of China's best opera artists and promote the market for classical opera in China", says Xu, director of Shanghai Opera House, and conductor of the new opera production. "I believe this is the new direction for opera art development in China."
For He, Floria Tosca is arguably her most iconic role. Last year, at the Staatsoper Hamburg on Oct 2, when she celebrated her 100th performance of Tosca, the primo soprano said that, "Tosca is one of the roles I carry in my heart. It is the role that opened doors for me at the most important international opera houses and, thanks to which, I have unforgettable memories."
The soprano debuted in the role at the Teatro Regio di Parma of Italy in 2002, marking a major breakthrough in her career on the international opera scene. Since then, she has sung at most of the world's leading theaters, including the Metropolitan Opera, Teatro alla Scala in Milan, Opera Bastille in Paris and Arena di Verona.
The voice of an opera singer is constantly evolving, she says. "I am adapting to my new voice every day, and hope to present the upcoming performances of Tosca in my optimum state."
Han Peng, a tenor at Shanghai Opera House, will play Mario Cavaradossi, the painter besotted with the eponymous lead. In May 2010, he won the first place in the Riccardo Zandonai International Competition for Young Opera Singers with the performance of an aria from Tosca, E lucevan le stelle (And the Stars Shone). The song also helped him to win the second place in the Bel Canto Group of the 15th CCTV Young Singer Competition in January 2013.