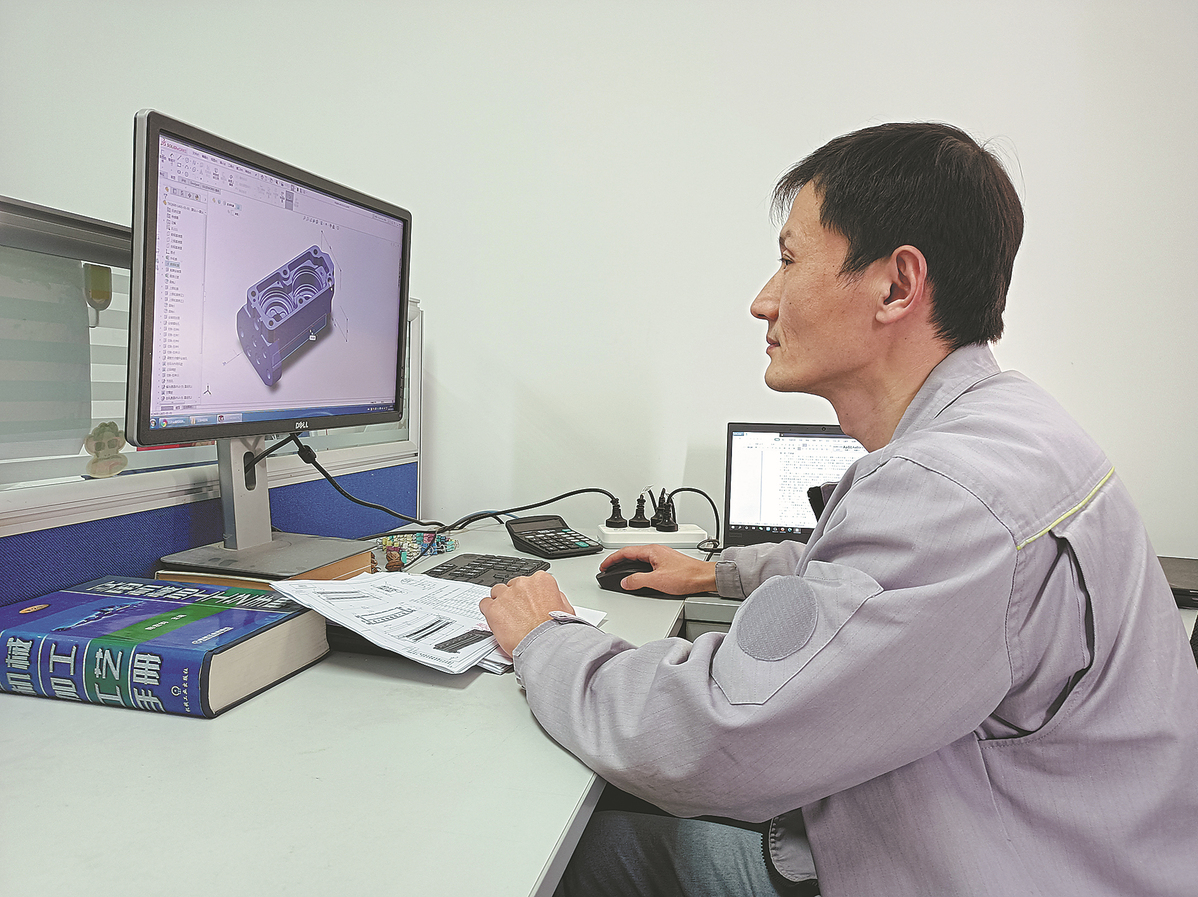 Wang Lichao has recently been sorting out his years of work on China's high-speed railway, working on several technical papers and getting ready to apply for more patents in the field.
"There's still room for improvement and I'd like to contribute to it," says Wang, 41, a senior engineer at the locomotive research institute of the Chinese Academy of Railway Sciences.
Originally from Suihua city, Northeast China's Heilongjiang province, Wang, who now lives in Beijing, has worked on practically all major production projects in the past 15 years. Meanwhile, the country's fast trains have moved from a speed of 250 kilometers per hour to 380.
Wang has played a positive role in the development of various types of high-speed trains over the years, taking charge of new product development, process line establishment and optimization, while going out of his way to break technical bottlenecks.
The efforts by Wang and his team at the research institute have led to key breakthroughs for the high-speed railway.
W a n g's achievements have earned him model employee awards of the country's rail system multiple times.
In 2007, Wang got a master's degree in mechanical manufacturing and automation at the Harbin Institute of Technology, and joined the railway system right after graduation. He then worked his way up from an apprentice to a senior engineer through hard work and continuous learning.
"The school's education laid the groundwork, but there was a lot to pick up from the real working environment, so I could deal with challenges coming my way and finish the assignments," says Wang, who specializes in production, assembly and debugging of key parts in the braking system.
With the explosive development of China's high-speed railway and subway, the capacity of the locomotive research institute was unable to meet the actual production demand.
"We received hundreds of orders every year," Wang says.
To solve the problem, the institute came up with a plan to outsource rail parts production and processing to outside organizations.
"We provide technical guidance to them and are responsible for the acceptance, assembly, testing and final delivery of the parts," Wang explains.
Therefore, several highly skilled and experienced technicians, including Wang, were sent to cope with various problems encountered by the outside organizations.
"We had to keep close communication with the outsourcing factories, and offer timely solutions to technical and quality problems to ensure the smooth completion of production tasks," Wang says.
In the process, Wang actively and patiently made technical presentations to each outsourcing factory, designed several processing tools and proposed technical solutions to meet the different conditions of those factories.
"It's important to ensure production and delivery on time," Wang says. "No matter what problems and how difficult they are, the production progress can't be compromised."
He made it a point to get to the bottom of every problem as quickly as possible and carry out process innovation and equipment upgrading under existing personnel and equipment conditions to produce a practical improvement plan.
At the same time, Wang insisted on solving problems with minimum input, to the benefit of the outsourcing plants, and encouraged them to seek technical upgrades on their own initiative.
After years of efforts, the production process and equipment, as well as technical solutions proposed by Wang for the outsourcing factories, have proved effective and delivered stability and efficiency in parts production.
Some of the modifications are now in the process of patent application.
"Wang has a solid theoretical foundation, rich practical experience, and high professionalism," says Jin Mingxu, deputy director of the locomotive research institute. "He has kept abreast of the latest developments at home and abroad in the business he is engaged in, and focuses on innovation."
Jin added that the stability and comfort of passengers moving at such a high speed is not easy to achieve, and commended Wang and his fellow engineers.
As of the end of 2021, China's high-speed train network covered more than 40,000 kilometers and was the largest of its kind in the world, according to the China State Railway Group.
The Jakarta-Bandung High-Speed Railway that is expected to be showcased during the upcoming G20 summit in Bali, Indonesia, in mid-November will signify China's high-speed rail technology making inroads abroad.
Although Wang has accumulated a good deal of valuable experience, he doesn't rest on his laurels.
"I am just a cog in the high-speed rail development," says Wang.
"There's still a lot worth looking into."