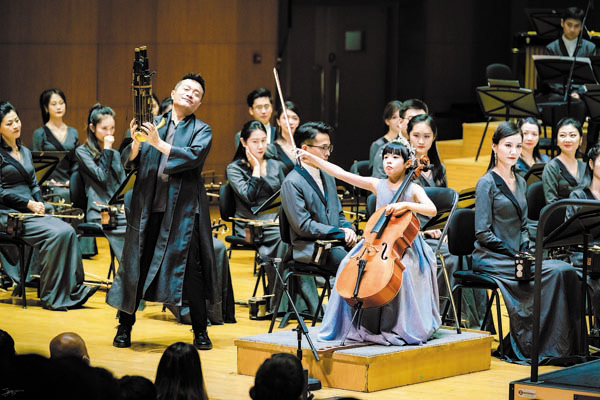 Musician Nie Yunlei reintroduces a 3,000 year-old reed-based organ into concert halls across China, Chen Nan reports from Beijing.
Whenever Nie Yunlei tours with his musical instrument, the sheng — a hand-held reed mouth organ with multiple vertical pipes — he wonders "How can this instrument survive in the modern age?"
The sheng dates back at least 3,000 years — images of it are captured in paintings from 1100 BC, and some from the Han Dynasty (206 BC-AD 220) still exist. However, it is little-known among audiences.
"I often give performances across China and I find that the sheng is overlooked and people don't know much about it," says Nie. "The sheng, one of the oldest species of Chinese instruments, is capable of playing chords and can be played by both exhaling and inhaling. It somewhat compensates for the absence of brass instruments in Chinese orchestration. I hope that people can appreciate the instrument and enjoy its versatility."
The veteran sheng player, 43, is keen on preserving and reviving the instrument, and has been experimenting with new sounds for it.
On Aug 31, he performed at the Beijing Concert Hall, playing 10 original pieces written for the sheng. Seven made their debut at the show.
Nie wove together multiple forms, including chamber music, orchestras and vocals, displaying the wide variety of colorful sounds that can be produced by the sheng. He performed two pieces during the encore: one a collaboration with his 9-year-old daughter, who plays cello, and the other including not only the sheng but also the suona, another wind instrument which originated in the Middle East and spread around the world in the medieval period, eventually reaching China, where it was adapted for use in ensembles, processions and operas.
"Audiences have a clear impression of the sheng because the musical instrument is old and commonly seen in animation and movies as well as at village ceremonies, funerals and weddings. There are clear stereotypes for the sheng: old, folk, and traditional styles of Chinese music," says Nie. "However, that's not the whole picture."
One of the pieces premiered by Nie during the concert was composed by Xing Xiao, 32, a specialist in Kunqu Opera, a Ming Dynasty (1368-1644)-antecedent of the more popular Peking Opera. The composition includes not only the sheng but also cymbals of different sizes, the bangu (a small animal-skin drum) and vocals — instruments that are also used in Peking Opera. Since the piece portrays the lifelong journey of a Peking Opera artist growing from a young performer to a star, it is titled Jue'er, a phrase referring to Peking Opera stars.