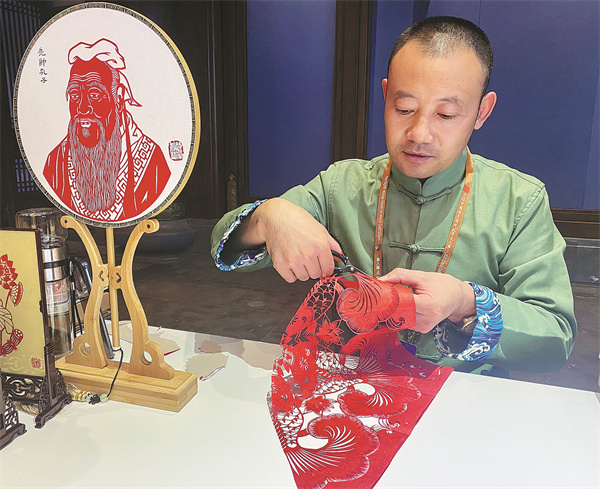 Ancient culture is being used to strengthen contemporary identity and promote growth, Zhao Ruixue reports in Jining, Shandong province.
Shandong province, where the Yellow River flows into the Bohai Sea, is exploring innovative ways to inherit time-honored cultural handicrafts, passed down through generations, and utilize ancient techniques to enrich people's cultural lives — not to mention their pockets.
At Nishan town in Shandong's Jining city, the birthplace of Confucius, more than 600 fine handicrafts were on show at an exhibition held during the 2022 China International Confucius Cultural Festival and the eighth Nishan Forum on World Civilizations at the end of September. The events celebrated the country's craftsmanship traditions through collaborations between traditional and modern designers and artists.
With mortise and tenon, Hao Liyan from Tengzhou, a county-level city of Shandong, built several works on site, ranging from animals to architecture.
In use for more than 7,000 years, mortise and tenon is one of the oldest construction methods in the world. Instead of using nails, it relies on interlocking joints to connect pieces of wood together.
"Mortise and tenon building blocks bring traditional craftsmanship back into our lives. That's the value of inheriting our Chinese traditional culture," says Hao.
He adds that his mortise and tenon building blocks have performed well on the market.
"Our production capacity can't meet the growing market demand. Not only children but also elderly people like our Chinese building blocks," Hao says.