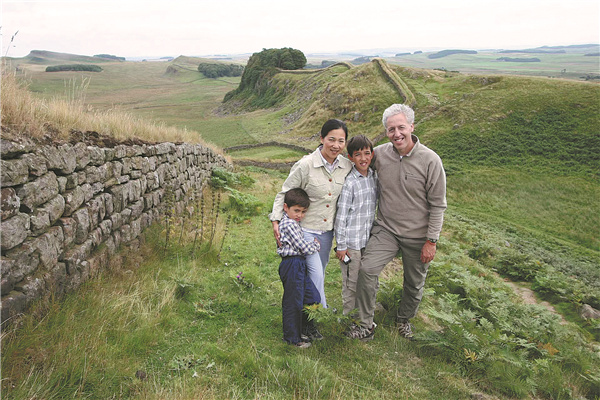 William Lindesay, renowned Great Wall expert and conservationist, and his wife Wu Qi have traversed the globe by the back paths, providing their sons Jimmy and Tommy a unique environment for personal growth, reports Yuan Quan.
Sunhats, backpacks, sneakers and trekking poles — these are the day-to-day musthaves of the family of William Lindesay and Wu Qi.
This East-meets-West couple started traveling while their younger son was still in nappies in 2003. To many, they are a dazzling sight: a black-haired Chinese wife, a blue-eyed British husband and two mixed-race boys, conversing seamlessly in both Chinese and English.
Most of their trips seem more rigorous than leisurely — heritage study in the Mongolian deserts, a 53-kilometer hiking tour of New Zealand, a one-day climb of three English summits and a six-day train ride from Beijing to Moscow. As modern and cosmopolitan as this family is, it exemplifies one old Chinese saying: It is better to travel 10,000 miles than to read 10,000 books.
The couple's romance began with the Great Wall. Born in 1956 in Liverpool, Lindesay became enamored with China's most famous monument. In 1987, he made headlines by spending 78 days walking the Great Wall across northern China.
Shortly before his departure, he met Wu in his hotel. Though they spoke only briefly, he never forgot her, and on his return, he successfully wooed her, overcoming her parents' hesitation. She became his wife, and they settled in Beijing where he worked first as an editor at China Daily and then Xinhua, later starting WildWall, a Great Wall-themed tour company.
Villagers living at the foot of the heritage site often see the tall, silver-haired foreigner collecting plastic bottles and garbage along the Wall. He has devoted more than 30 years to walking, photographing, studying, and protecting the structure.