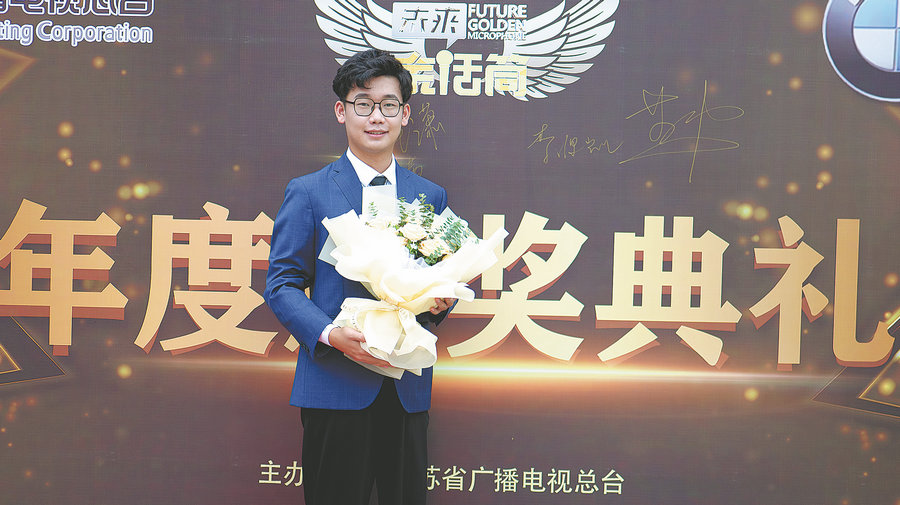 Winning a prestigious English-speaking competition marks the end of an arduous journey for Zhao Deyu, who, after years of battling cancer, is daring to dream once more, Chen Xue reports.
Six years ago, after hosting a New Year ceremony at school, Zhao Deyu, 16 at the time, noticed a swelling in his left leg, and not long afterward, he could barely walk. The swelling turned into a fist-sized lump that was extremely painful, so much so that he wasn't able to sleep. His parents took him to the hospital and were given the bleak news: The growth was a malignant tumor called osteosarcoma, or bone cancer.
"The dreams I had once held for my future were entirely wiped out," he said earlier this month.
Zhao, now 22 and a student at Northwest Normal University, recently won the China Daily "21st Century Cup" National English Speaking Competition. After six years, he is finally comfortable talking about what happened in front of a national audience.
Zhao recounted his story at the awards ceremony of this year's competition on Oct 5.
He explained that the transition from denial and desperation to acceptance and peace was not an easy journey for him.
In the two years following the initial diagnosis, Zhao had to drop out of school and endured 21 courses of chemotherapy and underwent three operations.
The chemotherapy really took its toll on him. He lost all of his body hair and could barely eat anything, even if he felt hungry. He no longer needed an alarm clock to wake up in the morning, because every day a feeling of intense nausea would stir him from his sleep.
"It was the worst time of my life," Zhao said.